The curtain closes early, but the show goes on in their hearts
Despite the school closure, VHS thespians find solace in the memories they've created over the years.
The VUSD school closures brought a cloud of mourning to Ventura High School students. Spring athletes mourned their sports seasons, seniors mourned their final months of high school, and the drama department mourned their remaining performances.
The stay-at-home order has given VHS's senior thespians a great deal of time to reflect upon their time spent on stage, behind the curtain, and in the dressing room, as well as cope with the fact that they will never be able to perform with the school's drama department again.
The 2019-2020 school year began with "The Anatomy of Grey," a show that ironically revolves around the spread of a deadly virus. Seeing as the cast was the second smallest that VHS drama teacher, Stefoni Rossiter, had ever had, auditions were quite cut-throat, to say the least.
Senior Daniel Metten commented on the tense environment, "As you walk[ed] into the auditorium and [got] your scripts, you could feel the energy and anxiety in the room." Senior, Ashlynn Vaglica added that "you get to audition with people as excited for the show as you are and, whether you get in or not, the auditions are really fun."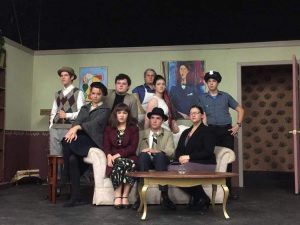 As for the performance itself, students seem to have enjoyed working on this particular show and getting into character. Senior Sophie Rocha explained, "I've always wanted to play a character that had a lot of depth and emotional weight and I'm so happy with how it all played out." In a similar sentiment, Metten said, "I feel that my performance was great, the chemistry between the whole cast played very well and blew my expectations out of the water on stage."
Many of the cast members from "The Anatomy of Grey" also performed in last year's "Night Watch," a similarly exciting drama. Rocha explained, "They're both very intense and draw the audiences in but where they're different is that Nightwatch is extremely intimate and focuses on one character and her story whereas in The Anatomy of Grey, the main conflict was centered around the entire community which made it feel like a lot more was at stake."
After the fall play, the doors to the little theater opened for the Winter Showcase entitled "Willy Wonka's Sweet Scene Showcase" which included a series of unrelated scenes written and performed by drama students and MC'd by three thespian Oompa Loompas. Students had a week to prepare for the performance and all scrambled to write scenes, memorize lines, build stage sets, and write lighting cues.
One of the MC's, senior Talia Walsh, expressed, "I thought the Willy Wonka theme was super cute. It was fun to dress up in those crazy costumes and sing weird rhymes." Walsh even went as far as to temporarily dye her hair green, mimicking the Oompa Loompas from the movie.
Senior Xzandalyn Kallstrom performed in two scenes which she helped write, "The History of Man" and "The Bruh Radio Hour." Kallstrom commented on this being her first time performing in front of an audience, "The worst part was being behind the curtains and waiting for the scene before ours to end. Once I got up on stage I was not as nervous. "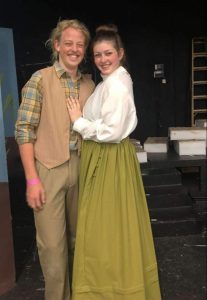 Having helped write the scenes as well, Kallstrom explained what it was like to have her own writing be critiqued by the audience as she performed, "You never know what the audience will think of it, especially since they were both comedy scenes, it is harder to appeal to everyone's sense of humor and when nobody gets the joke it's totally awkward … Creating something that successfully makes people laugh feels so good, it is definitely one of my favorite feelings."
Senior Jonny Sinklier commented that this year's winter showcase was his favorite. Sinklier performed a monologue from "The Glass Menagerie," he expressed, "Every line I spoke felt perfect in every way and all my friends who were also in the show were so supportive and made the whole experience even better."
This year's "What?" improv troupe got to perform twice before the school closure cut their stage time short. Sinklier, who was a troupe member, explained, "This year's troupe was filled with a lot of new people to the drama department and although we had our rough spots, I think [we] had a very hilarious show this year."
Walsh, one of the troupe's team captains, detailed her favorite thing about performing improv, "… When you are in a scene and you can just feel that it's going well. Like the story is moving, it's funny, you are getting a good audience reaction, and you just feel good about the performance you are giving … Not every improv scene is super amazing and funny, sometimes you are in one where for some reason it's just not really working and that's not very fun."
The drama department does not solely revolve around its performers, an easily overlooked group of students are the technicians who work on lighting cues and stage direction. Senior Max Bolle commented on the stress of a technician's job, "There are definitely stressful moments where you have to think on your feet but it's so fun and rewarding that the stress doesn't even matter in the end." Senior Cole Campbell added that being a technician is "one of the hidden gems of the drama department."
One of the biggest disappointments that came with the school closure was the cancellation of the spring musical, "Cinderella." Camp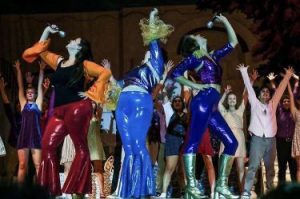 bell was excited to finally be playing a lead role as well as play an integral part in the technical process, such as building Cinderella's carriage, he expressed, "I put a lot of work into it on both the performance side and technical side and it was very sad to see that kind of be all for the experience instead of [the] performance."
Despite the cancellation, the show must go on, Walsh explained, "We are trying to see if we can do a Zoom show which is bittersweet. It's nice to be able to perform in some capacity but still sad because we can't show everything we had been working hard on," she commented that the whole cast learned how to waltz just for this performance.
While all of the cast and crew who spent long hours working hard to put on an amazing show are quite disappointed, as Rocha put it, " … unfortunately, it's not what the universe planned and we just have to keep on moving forward and do the next best thing."
Our senior thespians were asked to recount some of their favorite performances from their time with the drama department, among those listed were "Mamma Mia!", "Nightwatch", "Seussical", and "Footloose."
Senior Lauren Sherman shared a memory from her performance in "Mamma Mia!", "There was this scene where we all had masks on and were scaring the audience and I full-on fell and hit my head on one of the chairs, right in front of my dad. After the show, he came up to me and said 'I knew that was you who fell because you're the only person I know who can mess up and still make it look good.' "
While the curtain closed early, future performances will more than make up for this intermission with their charm, excitement, and livelihood. VHS's senior thespians are leaving with a plethora of memories and life lessons all thanks to the drama department. Whether it be confidence, leadership, quick thinking, friendship, or the adrenaline rush of being on stage, it is safe to say that their time in drama has nourished them and prepared them for a life of excitement, whether it is spent on the stage or not. They can all proudly take a bow and move on to the next performance.