Music in the heart while staying apart
Musicians share how they feel about the new reality the music department faces.
In the upcoming unprecedented school year, everything will be different. For music students, developing a feeling of normalcy will be extra challenging. In a pre-COVID19 music department, students would congregate in large groups to play together and practice, followed by performing to a large audience for concerts. Not only was performing together normalized, but a huge part of the program was having fun bonding with their fellow musicians. Now, they are facing a new reality of creating music together, only while being apart.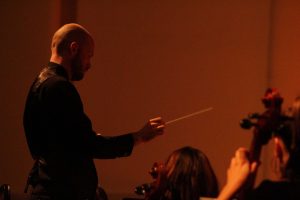 Like other electives, the music department has limited knowledge of exactly how this year will look. Many, like junior Tess Luoma, are wishing for the face-to-face time before the closure. Luoma explained, "As far as I know, everything is online. We are trying to be able to have some socially distanced meetings, but I am not sure if it will be possible. I think that there are not many pros to the situation, but maybe just that we will be able to teach ourselves more and have more time to practice. If I could change something, it would be to have at least a little face-to-face time. I know that isn't possible, but it would be nice to have some normalcy. I think I'll miss the environment of the music department and all of the fun we had most. It's such a great group to be a part of, and it's disappointing that we won't have some of that this year."
Part of the system for the department this year has a lot to do with keeping the students' musical minds in shape. Junior Ava Rosenthal shared, "As of next year, we will focus on music theory and basic fundamentals before we get to see each other in the classroom again. We will have zoom calls and chat and try to get together in these tough times. The one thing I would change is that we would go back to school, I honestly miss it! I miss the environment and the people, there's nothing better than working together to create beautiful music. I hope we can all see each other soon!"
Apart from Rosenthal,  there are many other musicians who will miss the in-person interactions with their bandmates. Junior Inman Costa shared the feeling of not only missing old friends, but also the fun of making new ones,"We will be studying lots of theory, having weekly scale and sight-reading assignments via Google, and presentations and games within each section. You definitely have way more time to practice, compared to other years where you would cram homework and practice in a 4-hour window. If I could change anything, I would want to be with my band again, but in the realm of distance learning, Mr. Hunt has planned this incredibly. I will miss the trips and that first week where I get to meet so many new people!"