Zoomprov: To be or not to be?
VHS Drama department showcases its first virtual improv show. 
On Feb. 5 and 6, the What? Improvisation Troupe made its debut of the 2020-21 school year through a Zoom livestream. The one-hour shows consisted of a rotation of improv games such as Revolving Monologue, Director's Cut, and Walkout/Exit Scene. The show functioned similarly to last year's fall improv showcase, despite the barriers that the COVID-19 pandemic has presented. One of the troupe's seniors would present a game, be given a prompt by director and Ventura High School teacher Stefoni Rossiter, and continue with the game until a bell sound played to signal the end of the round. 
It's an impressive feat that the drama department has managed to showcase productions in the face of online learning. That being said, it was hard to ignore the air of awkwardness that carried through the entire show. 
This slight awkwardness may be attributed to the fact that practices took place completely through Zoom. Consequently, the chemistry between troupe members was lackluster.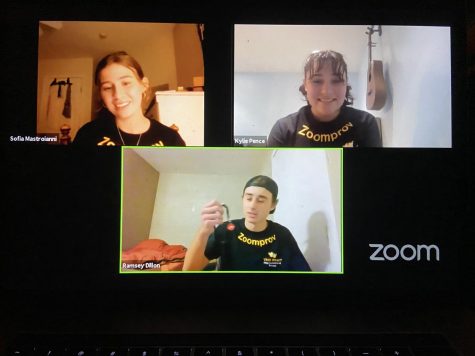 Senior Sofia Mastroianni said, "Obviously, it would have been ideal to be on the physical stage with the troupe but the experience on Zoom was so well thought out… Ms. Rossiter found out pretty clever ways to play through a screen and made it actually feel like we were on a stage performing."
"I think opening night was great!" continued Mastroianni. "During opening night we did have to rearrange some of the schedule because we were going so much faster than anticipated. We forgot to take into account how long laughter from the audience takes as well as entering and exiting the stage. We still managed to make some people laugh and have a great time!"
Senior Ramsey Dillon stated, "I would say my favorite part of the performanc
e was all the different types of comedy that each performer did. Everyone did something funny and unique that made the performance awesome. My favorite game was 'Ask the expert' because of the funny questions and answers that were said and the fact that Jack told me to toss my cat onto my bed." 
The improv troupe will be putting on another Zoomprov in the spring, so make sure to look out for announcements on the VHS Drama Department Instagram, @venturahighdrama.