Styles crushing stereotypes with his style
Harry Styles, and why VHS students believe he is one of the most influential artists of this generation
Harry Styles; whether you know him from his boy band era or his current "Love On Tour" era, he has become an influential person in today's society. He is often dubbed a fashion trailblazer in the music industry and is widely known for crushing societal expectations of gender expression. 
Ventura High School students are in awe of Styles and his music, 57 percent voting in a poll on @the.cougar.press Instagram that they love him as an artist and person. Through his style expression, Styles strives to break down toxic masculinity standards and favor the idea that clothing has no gender. But he isn't the first to do so. Today's society is infinitely more knowledgeable on topics such as the gender binary and gender expression. Artists such as Lenny Kravitz, Prince and David Bowie were born in a time that didn't fully accept this. Styles has encouraged his fans across the globe to feel more confident in themselves. 
"He has inspired me to be a kinder person to myself, that I shouldn't take everything so personally because, in the end, it will all work out and will be okay. He also inspired me to express myself," said junior Cece Perez.
Styles has been gaining popularity ever since his time in One Direction. "I love him because he is himself," said Perez, "He is one of the most genuine celebrities. He is a big ally to the LGBTQIA+ community and the BLM movement, which I really admire. He does not have the toxic masculinity vibe, and he expresses his femininity through an ambiguous fashion sense." 
Styles' iconic sense of style has fans awaiting his next look, "I really like his fashion sense and how original he is," said junior Mya Sherman. 
Style's recent "Harryween" costume, Dorothy, was definitely memorable, "I love it," said freshman fan Olivia Mobley. 
Although many see his femininity or androgynous style as revolutionary, Styles still has the privileges that come with being a white male. BIPOC individuals and activists who have been at the forefront of the movements to demolish the gender binary receive much less recognition. This is partly because today's society has recognized and made lengths to destroy the homophobia that has been woven throughout history. We still have a way to go, but for now, Styles can take advantage of this privilege and use it to reach as many teens and fans as possible. "His music has gotten me through some of the hardest times," Perez said.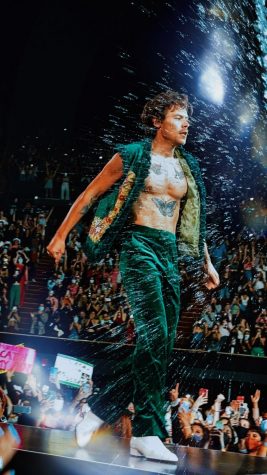 Styles has provided safe spaces for Queer and LGBTQIA+ communities. In addition, he has helped fans come out. Through waving Pride flags at concerts, and making donations to gay, lesbian straight, education network (GLSEN) he has raised awareness. In his July 2018 concert, in LA he famously proclaimed, "we are all a little bit gay." A blogger, Aamina Khan  said, "Each night he overlooks a dark, crowded auditorium, illuminated only by the light of iPhones, rainbow flags and sheer queer pride and joy, and we all collectively hope that our gratitude is obvious." 
Styles has been praised for his authenticity and creativity and his ingenuity has fans flocking to obtain concert tickets, "The concert was amazing! I had an amazing time having fun, and being around such a loving and accepting fan base. Everyone wore masks and was respectful of the rules. It was so fun to have a night away from school and homework!" said Sherman.
Having young artists such as Styles rise up in our society, to defy and encourage others or defy these standards is what Mobley calls "amazing."