Opinion: Encanto is enchanting
One of the newly released Disney movies, "Encanto", has captured our hearts
The movie itself is centered around a magical family in Columbia, each member with gifted magical powers, except one. Mirabel Madrigal is the sole member of the family that does not possess a gift. Due to this, she often feels outcasted and is left out of the family, but she still loves them. 
The movie's conflict arises when the family members each start losing their powers and Mirabel finds a vision showcasing the future destruction of the family. Terrified of this outcome, Mirabel desperately tries to change it, however, no one believes that she is doing the right thing. 
However, throughout the movie, Mirabel learns more about her family and the secrets that lie within the walls of her very own house. In the end, Mirabel learns a valuable lesson about family, with some very catchy songs along the way.
Freshman Hetzelyn Martinez-Morales said, "I liked the movie because it was magical. My favorite part was when they gave Antonio's gift." In the movie five year-old Antonio got the ability to communicate with animals. Her favorite character was Bruno Madrigal (but shh, we don't talk about him).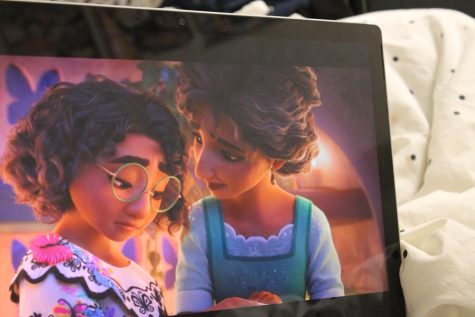 Meanwhile, freshman Miles Mcphee said, "My favorite character is definitely Camilo because of his personality and comedy. I also really love his gift."
The movie overall had great visuals, it was really bright and colorful. We loved the settings and the themes that the movie sets, from Antonio's birthday party scene to Bruno's mysterious room of sand. The character designs and diversity were also something else that stood out in this movie. Recently, Disney has been stepping up their game and creating more diversity within their movies, such as with "Luca" and "Encanto." It was really cool to see more representations of Hispanic/Latino people and culture in a Disney movie. "Encanto" was the first Disney movie to focus specifically on Latinx characters. Each character in the movie seems to be well thought out with different dynamics and personality aspects, and you can see this throughout the movie with each new character you're introduced to. Each character has their respective flaws, but they also each have great traits that make them lovable people. The character development was impressive as well, and seeing these characters overcome hardships was an amazing adventure on screen. The movie also brought up serious topics like family toxicity and pressure placed on children by their families.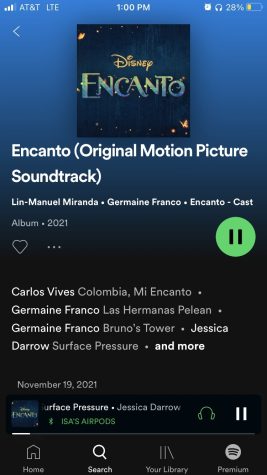 Not to mention the soundtrack was absolutely incredible. Shout out to Lin Manuel-Miranda! Mcphee stated in an interview about the movie, "I really liked Luisa's song, Under the Surface, I think it had a lot [of] parts that really introduced her well…"  
"We Don't Talk About Bruno" and "Surface Pressure" are literally works of art and some of the best Disney songs.
Overall, this movie was great and both of us loved the concept and execution of "Encanto!"