The winter showcase returns in-person
 VHS drama department highlights standout performances of the year in the annual winter showcase
The annual Winter Showcase took place on Fri., Feb. 4, and Sat., Feb. 5 at 7:00 p.m. It was led by Stefoni Rossiter, the drama department teacher. The show consisted of two acts, filled with a bevy of theatrical performances ranging from the improv troupe, to student-written originals. 
The show opened with freshman Eva Stamp performing "I Ate The Divorce Papers." The crew set up a table and chairs for stamp, with the audience as her "date." 
The show then shifted to a classic Edgar Allen Poe piece, "The Tell Tale Heart," performed as a monologue by freshman Izzy Britto. The first act finished out with a performance from "The VHS WHAT? Improv Troupe" that featured over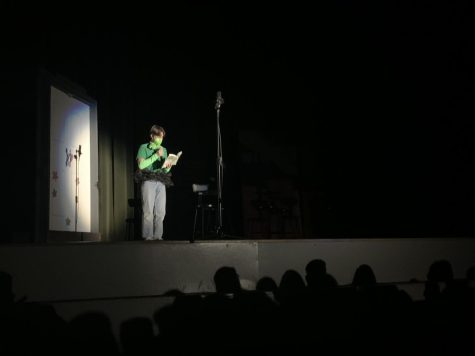 15 students, ranging from freshmen to seniors.
Junior Lilia Duque, a member of the troupe said, "I've been in a lot of productions in Ventura High School's theater department, so it [the showcase] was just another fun show." Although she's not currently in drama this year due to scheduling conflicts, Duque is in stagecraft and plans to be in drama her senior year. The first night of the show, she was in Park Bench and Build-Up, Build-Down, but said her favorite was, "Park Bench because I made a Moana reference and it made [me] very happy."
Act two opened up with Shakespeare's "A Midsummer Night's Dream" from freshman Leah Murphy. It was followed by an original piece written by freshman Diego Ibarra called "Out Of Its Misery." The skit features Ibarra himself, and senior Zacharias Lopez. The scenes followed two hikers and their hunting antics. Sophomore Olivia Arriaga wore full period garb to star in Amy's monologue from Greta Gerwig's 2019 film, "Little Women."
A comedy section from "Schitt's Creek" featuring a fictional bug was performed by a trio of sophomores Makenna Large, Kaitlyn Seymour and Nika Wallach. Large joined drama this year, and described the decision to join as, "We're gonna audition for this. Let's go. And… we got it." Wallach said they found their scene from a scene folder, liked it and went with it, although only one of the three of them– Seymour– watches the show it originated from. Essentially, their decision came primarily from the content of the skit.
"Batman and Superman" was performed by sophomore Quinn McMurty and senior Jesus Salcedo. "I Don't Want Another Dumb Argument" was preformed by Arriaga and Emily Sevaaetasi. Senior Aliza Barroca gave a monologue called "The Teacup."
"A Philadelphia" was a piece performed by seniors Jayden Marshall, Ryan Palmisano and McMurty. The scene featured a full diner set from dishes to tables/chairs. 
The crew featured eight students, who took care of all of the behind the scenes work. 
The show was hosted by junior Sinthia Cardenas, and seniors Aaron Reijerse and Charlie Cook. 
The next show from the drama department, "You're a Good Man, Charlie Brown," is set to be performed this spring.