Digitized art at the library
An overview of the Digital Art & Design class
Digital Art & Design is a fine art elective that is taught by Elektra Cohen during the fourth and fifth periods. It has been at Ventura High School since 2017. It focuses on integration between digital art/design and digital photography. It seeks to help express students' creativity. There are roughly 40 students in each period of the class. 
The class relies on the use of Adobe Photoshop, Illustrator and Animate. Junior Cameron Cheatham, who is in Digital Art & Design, said, "We work in Photoshop for almost every assignment, so you learn editing skills, as well as composition skills when it comes to art. You also get sketchbooks at the beginning of the year, and some assignments involve drawing. I didn't have any experience with Photoshop before I took the class, and I already feel pretty comfortable working with it."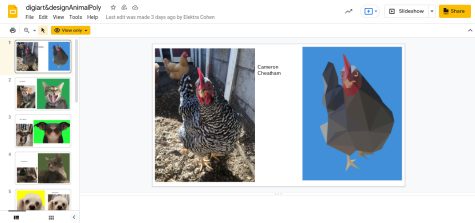 Cheatham said, "Right now in class we're doing an assignment on paper, where we draw patterns called Zen-tangles, which we'll upload to photoshop to add color. Earlier this year we basically did commissions from teachers and designed posters that they requested. Some of the projects are step by step and pretty easy to follow, and others you have more creative freedom on, like digital collages."

The class meets in the library instead of a traditional classroom because there is access to the Adobe editing programs. Freshman Jacob Eggertsen said, "The class [Digital Art & Design] is fun. You get to make cool projects."
Junior Alex Carbajal Nava said, "Digital Art is pretty cool if you never had a chance to mess around with photoshop. And it teaches you many things that have to do with that. Right now we are doing these things called zendoodles and you basically section a paper and draw different patterns in the different sections without thinking it's kinda calming but when we finish it Ms. Cohen is going to scan our piece and put it into the computer. We are then going to color it in Photoshop."
To join Digital Art & Design, students must look for the course during class registration and review with their counselor. Cohen can be contacted at [email protected].