Previously unseen hallway art placed on campus
Campus beautification by student artists
In the hallway between the library staircase and the ASB room at Ventura High School, several works of art can be found. These art panels were created by VHS students. There are seven in existence as of March 1. 
During the later part of the 2020-2021 school year, Ventura High School art teacher Megan McKee held small group meetings. This was during the limited in-person school period of A, B and C groups. McKee said, "The [VHS] principal at the time [Carlos Cohen] was trying to get more students involved with the school because they had been gone for so long [due to COVID-19 related closures]. They started small groups and I held an art-based small group."
During the small group sessions (which were twice a week with one-hour sessions), McKee asked her art students to create an art piece on a two by a two foot wooden panel. She said, "They [students] could create their own ideas. They had to sketch it out and have it approved by the administration." The art was created between April and June 2021, and would proceed to be hung up during February 2022.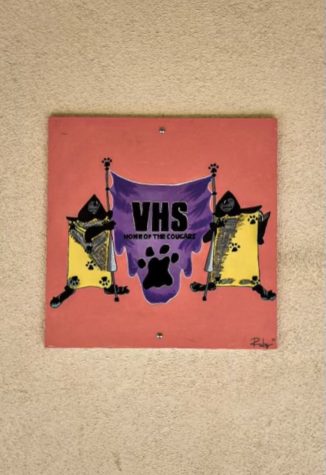 One of the artists is sophomore Ruby Strunk, whose artwork is displayed near the library. Their art panel has no name. Strunk said, "I did a piece that was inspired by the Alice in Wonderland intro scene, and my painting shows two card soldiers holding a VHS banner. The inspiration was from the cartoon adaptation of Alice in Wonderland, which was one of my favorite movies as a child and now. I wasn't actually aware that they were being put up around campus, because it had been so long since I made the piece and I had forgotten that the original intent was for them to be posted up. It was definitely a surprise to see me and my friends' artwork in the halls." 
Another one of the artists is senior Jade Beltran, who created a sun artwork piece. Beltran said, "I took a while to create because after drawing it, it was made entirely individually of different sized dots of paint and I used wooden dowel sticks to dip in the paint and put on the board."
Alexis Segovia, the creator of the blue VHS panel, said, "It feels like a great accomplishment [having art displayed on campus]. I'm happy that the school is getting involved with students and every time I walk by it I feel proud of myself for venturing out and having my work that is associated with many joyful memories be on display."
McKee said, "I think [… the art is] timeless. I feel like it gave students the opportunity to design and create their ideas. Their passion and expression are really important. We are going to do more. I feel like a lot of students will have their favorite panel because they might find a connection that they appreciate."