Charlie Brown comes to town
The spring musical is in full swing– the cast was revealed and rehearsals have begun
This spring, the Ventura High School drama department is set to put on their annual spring musical. This year, they're performing "You're a Good Man, Charlie Brown." With a cast of 25 high school performers, they will continue their spring musical tradition after the cancellation of "Cinderella" in March of 2020, due to the pandemic.
Six of the eight main characters– Charlie Brown, Lucy, Snoopy, Linus, Schroeder and Sally– are double casted. Woodstock will be played by senior Jayla Ramirez and Little Red-Haired Girl will be played by sophomore Harley Nix. The main character, Charlie Brown, will be split between senior Ryan Palmisano and sophomore Adam Hibberd. 
Palmisano has been in drama since freshman year. Within those four years, he has accumulated a repertoire of VHS productions. His involvement includes "Night Watch," "Mama Mia," "Anatomy of Gray," "Zoomdunnit," "Quest for Quinonium," "A Wrinkle in Time" and what was supposed to be "Cinderella."
Palmisano said, "I think it's really cool because it's my first lead in a musical and I don't wanna let anyone down, so I'm gonna do my best." When asked to describe his character, he said, "Charlie Brown– he's that loveable loser, ya know? He wants the best for everyone, but he never gets his way. You always see him trying again."
In contrast to Palmisano's experience, this is Hibberd's first semester in drama, after switching from digital art and design. Hibberd said, "It's really cool. I definitely did not expect this. I'm really glad to be playing Charlie." He continued, "I'm an okay singer. I'm an okay actor. I personally don't know what made me stand out."
In a message to those who may not have experience or don't necessarily feel like they stand out, Hibberd said, "Just go for it anyways. Maybe there's something that you don't see in yourself that the director will. Maybe there's just a certain aspect of your personality that's really good for a certain role. Who knows?"
Junior Lilia Duque is not currently in drama class due to scheduling conflicts, but is instead in stagecraft. Duque will be playing Linus. She said, "I tried out using Linus's song 'cause his song fit my vocal range better." Duque continued, "I also knew a lot of girls were trying out for Sally and Lucy. So yeah, it was what I was going for and then I got in call-backs and I was like, 'Okay. I want it now.' I started wanting it then." In Duque's words, Linus "is super philosophical and super smart, but also very loyal to his friends." In contrast to this characteristic, she said, "His blanket kinda represents his inner child."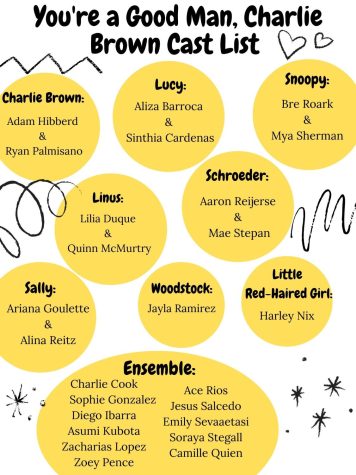 A large part of the spring musical is the "musical" aspect. The entire cast must prepare their voices and practice singing for much of the show. According to junior Ariana (Ari) Goulette, who splits Sally with senior Alina Reitz, "The show was originally written for six people– just those six– but now that we have the entire ensemble, we have to be able to include everyone."
In order to do this, the music is sectioned based on vocal range. Ramirez said, "In the song, it's written just Sally, Lucy and the main characters, but in order to include everyone, they made Sally the sopranos and Lucy the altos." Ramirez continued, "When they say 'Linuses' or 'Linus's part,' that's just the tenors. That's not actually people playing Linus."
Goulette and Ramirez both expressed that at one point, they planned to call the sections the "Sallettes" and "Lucettes" to avoid confusion, but the terminology didn't stick.
One of the songs in the show is called "The Baseball Game." Junior Mya Sherman said, "This is a really important scene in the show where we are playing a baseball game, and it's all about being a team and leadership and friendship." Goulette added, "In this scene in the baseball game, my older brother– Charlie Brown– is okay. Ya know… he's alright. He's fine. It's a fun scene, but he ends up messing up in the end." Her description of Charlie Brown's role in this scene is an example of the "loveable loser" archetype Palmisano described.
The cast of "You're a Good Man, Charlie Brown" will continue to prepare and rehearse the next couple months. The dates, times and ticket prices will be available in the coming weeks.