-By Tobin Berger-Cahn-
The VHS music department hosted their annual benefit concert on Wednesday, October 18 to showcase their musicians and raise money for the program.
The Studio Jazz Ensemble opened the concert with "Four on Six," "Cantaloupe Island"  and "Watermelon Man." Each Jazz musician is responsible for not only playing the music, but improvising a solo as well.
For the newcomers to the program this may be daunting, however Connor Mcintosh, a senior and co-sergeant of the Jazz Ensemble, stated that "People who were new to the group went up and played solos that were incredible. It was an awesome show by all groups and I think that we can only get better from this with all the talented young musicians we have."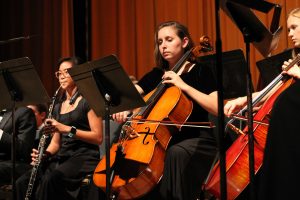 The Jazz Ensemble finished their performance with a soulful rendition of "Afro Blue" sung by vocalist Mikayla Williams, which appeared to be one of the audience's favorite pieces,  according to their response to it.
The next band to take the stage was the String Ensemble who began their performance with "El Toro," composed by Don Brubaker.  Their final piece was "Mabel Creek Overture," composed by William Harbinson.
Concert Band took the stage next and began their performance with "Appalachian Morning," composed by Robert Sheldon.  They finished their performance with "Midwest Golden Jubilee," composed by James Curnow.
The Wind Ensemble began their performance with a striking delivery of the piece "In Flight," composed by Samuel Hazo.  They also played Eric Whitacre's "Lux Aurumque."  Their final piece was a rousing performance of Dmitri Shostakovich's "Galop."
Next to take the stage was the String Orchestra who opened their performance with a beautiful delivery of Frank Ticheli's "Rest," evoking loud applause from the audience.  Their final piece was the three part "Choreography: Three Dances for String Orchestra," composed by Norman Dello Joio.
Cameryn Boggio-Shean, a senior and sergeant at arms of the String Orchestra who also played in the Honors Wind Ensemble, said, "I felt very connected to the group, and it felt like everyone was really focused and ready to perform."
The final band to perform was the Honors Wind Ensemble, which opened with a passionate and beautiful performance of a four part suite from the Opera, ¨Merry Mount," composed by Howard Hanson.  They finished with an exciting arrangement of Toto's hit 80s song, "Africa" — a nod to the previous year's rendition of a-ha's "Take On Me."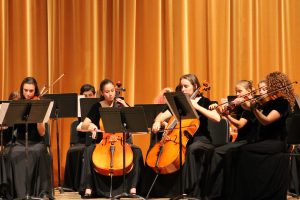 Bridget Boland, a Junior who plays the Viola in the Studio Jazz Ensemble and String Orchestra, said that "the Honors Wind Ensemble ended the night in a great way, I never thought I'd hear a wind ensemble play Africa."
Students not only performed but also assisted in the execution of the event.  Julienne Cormier, a Senior at VHS and also the Executive Officer of the program, points out in an interview that "most of the performance was run by students.  Samila [Aquino] conducted Wind Ensemble, Amanda [Malotte] conducted String Ensemble and Chad [Talaugon] conducted Concert Band.  All announcements were made by students as well."
The benefit concert is an opportunity for the music department to share their passion with the entire community; Cormier said, "We had around 900 people attend — which is a really good turnout.  We do our best to get the word out but thanks to the article from the VC Reporter, it really got us out there."
About the great turnout, Boggio-Shean also said, "It was really exciting to see so many students and people from the community there supporting the music department."
The concert is also an incredible opportunity for the music department to gather some much needed revenue in order to fund their spring tours in which they have previously travelled and performed in Chicago, Illinois, and Chattanooga, Tennessee. Last year, they even earned a Superior Rating at the National Adjudicators Invitational and Grand National Adjudicators Invitational respectively.
In reference to the music department as a whole, Boland said, "Music at VHS isn't just another class, it's a special kind of experience and everybody there has something in common with you; a love for music.  And you can definitely see it when you look at the musicians' section of the audience and we all immediately give each other standing ovations for the performances.  That's why I love this department so much.  No matter what craziness we have going on in our lives, we all have music to keep us grounded."
Their next event is on November 16 in the VHS Auditorium.  It will be free of charge and performances begin at 7:00 p.m.