Kyle Harvey comes back to perform at Ventura after four years not being able to in front of a crowd
Kyle Harvey is a graduate student from the class of 2011 who first started his music career while in high school, but how did he make it this far?
Kyle Harvey, known as Superdupekyle, KYLE or King Wavey while performing, is an alumni student from Ventura High School. Harvey currently has four albums out but he is known for his most famous song iSpy ft. Lil Yachty.
Before Kyle became famous, he attended Ventura High School and took drama classes with Stefoni Rossiter. Rossiter had Harvey as a student for all four  of his highschool years. "I knew he was special from the start. Kyle was always the most respectful, kindest hearted, friendly, genuine young man. His smile and energy lights up the room. He started performing with our productions at the end of his sophomore year, and went on to do dramatic and comedic plays, spring musicals, and he performed with the 'What?' Improv Troupe. He even sang and danced with the original show choir group! He was extremely dedicated to the drama department, and very well liked by everyone," said Rossiter.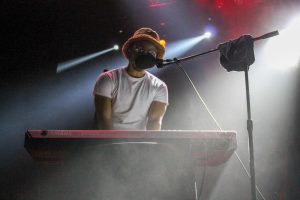 Harvey produced music with some friends under the band name K.i.D. and he would share his music on Youtube. On July 8, 2011,  Harvey published a song called "Lemonade." His music video accompanying the song was filmed at Ventura High School.
When Harvey graduated in 2011, his senior quote was, "See you when I am famous!!!!!!!!!!!!." Harvey tells us how he thought about that quote, he said, "I thought about something that I wanted to make sure that everybody knew what I had planned when I was done with high school and I said 'I will see you when I am famous' I am about to go chase my dream and I hope you do the same."
Aside from music, Harvey also created a movie called "The After Party." The movie is about a rapper going viral, but in the wrong way. He thinks that his music career is over, but his best friend gets them into a wild New York City after party where the rapper gets one more chance to start his music career. Towards the end of the movie, Harvey features himself performing at the Meadows festival in New York City a song that he made with a American rapper Wiz Khalifa called "Moment."
Harvey had officially announced his tour called "I MISS U." Before COVID-19, the last time Harvey performed in front of a live crowd was in 2018 when he played for the benefit concert after the events of the Thomas fire. On June 26, 2020, Harvey came to Ventura and performed at the Ventura Fairgrounds. The event was called "Concert in Your Car," and attendees were socially distant by remaining in their cars.
Harvey talked about what motivated him to start making music. He said, "Since I was [about] four or five, I was just singing songs, and I loved music so much that I just wanted to make sure whatever I did for my job, it was music related." Harvey also gave some advice to the people who would like to start creating music; "Make sure you have fun above all else, because if you spend seven years [of your] life trying to make music and you hated it, Its a 'L' [the meaning of L is saying that it is bad.], but if you spend seven years of your life and you went to concerts, and meet people, and you were having fun and your energy was in it, then it's a win. [It] Doesn't matter if you made a million dollars or [if] you didn't, as long as you were in it and you had fun while doing music, you won, so make sure you have fun, that is my number one."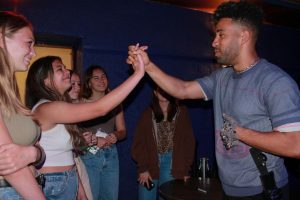 Sophomore Olivia Arriaga tells us about her experience at the Kyle concert. "Kyle's concert this weekend was amazing, everyone was so excited to see him and the energy he [made] the crowd incredible. He really showed how much he loves Ventura." Arriaga also tells us how she started to listen to Kyle and what Kyle inspires her to do. "I found out he went to VHS and started listening to him. The benefit concert he held for the Thomas fire made me listen to him a lot more. Kyle inspired me to continue my passion for working in the drama department and following my dreams [of] not letting anyone get into my head and saying I can't do it." 
When asked about Harvey, Rossiter said, "Kyle always told everyone he wanted to be a famous rapper, and I knew he had a lot of talent from the first time I saw him perform; however, I have also had a lot of talented students throughout the years, and I know 'showbiz' is an extremely tough career. As I think back on all of my years working with so many creative and talented students, what I remember to be unique about Kyle is that he was always unquestionably driven to succeed in a big way. Honestly, I don't think it ever occurred to him that he might not succeed. So, I guess I was not really surprised at his success, but I was a little surprised that it happened so quickly."
Rossiter mentioned one thing that she is proud of Harvey's improvement throughout the years, she said, "Kyle and I have remained close all these years, and what I am most proud of is his character. He remains true to himself and his loved ones. He is authentic in his celebration of all people, he is generous with his time, energy, he loves his Ventura roots and community, and he is truly grateful for all the support of his friends, family and fans all these years later.  Kyle is an incredible human being, full of love and light. That's what makes me the most proud."