Alice in a wonderful showcase
What exactly went down at VHS's annual Spring Showcase?
The VHS annual Spring Showcase was the next drama production to be staged following the play, "You're a Good Man Charlie Brown." This year, the sets were "Alice in Wonderland" themed, featuring Alice, the White Rabbit, the Mad Hatter and the Cheshire Cat as MCs (master of ceremonies), introducing acts. Performances don't follow the theme, but MCs act as a kind of segway, initiating the next scene. Segments ranged from lighthearted scenes to darker topics. 
Stefoni Rossiter's drama students can audition to become a part of the show. "During the semester, I worked in a scene called 'Phobias' with a few of my classmates, and we decided that we wanted to audition the piece for the showcase. We auditioned and made it in!" said freshman Ada Sheeren. "Our act was a 3-4 minute, 5 person scene, […] and it was basically a group therapy session gone wrong… there is a lot of screaming in that scene." 
"My act was […] called fugue. It was a dark scene where a guy murdered three girls in sucession," said sophomore Makena Large. Large's scene was a bit of a shock to the audience, as it brought up disturbing topics. "I like watching the audience's faces while they watched [the performers]," Large said. 
Another aspect of the showcase that students can participate in is tech work. "[In order to audition to be a part of the tech crew, students] go through a bit of a different process. […They] talk to Rossiter about the positions that are needed and why [they] think [they] would be good there," said Large. " I […] really like tech and working backstage."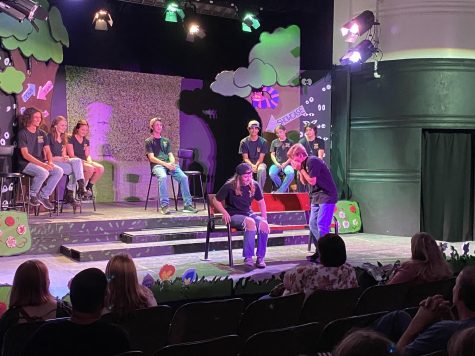 This showcase was also the last performance of the WHAT? Improv troupe. This meant a send-off after their show for the performing seniors, soon to be graduates. The whole troupe had the audience laughing in no time whilst playing games such as "park bench" and "if you know what I mean."
"Although I do like showcasing what I've worked hard on to audiences, the best part about performing for me is having fun with the people I'm performing with," said Sheeren. "I don't know what your thoughts are about the drama program, but I highly encourage you to get involved because you learn so much and have so much fun. If that's not your thing, just come and see the shows. I'm certain you won't regret it."