Interact Club provides students with essential items
VHS basic needs pantry stocks hygiene products, school supplies and more
The Ventura High School basic needs pantry is a service that provides free essential items to students, with the majority of items being hygiene products, school supplies and food. Among the available items are toothpaste, toothbrushes, deodorant, tampons, paper, pencils, and canned foods. The pantry is located adjacent to the attendance office at the VHS main office.
The pantry was founded in Sept. 2021 by the Interact Club. College & Career Counselor and Interact Club advisor Patricia Roberts said, "We recognize that many of our students are forced to deal with the anxiety that accompanies living without day-to-day necessities, which makes it difficult to focus on school. Our goal is to alleviate some of these needs so our students can devote their energy and attention toward succeeding in school. However, the pantry is open to all students."
According to the U.S. News & World Report, 57 percent of VHS students are economically disadvantaged. A school´s economic disadvantage rate is defined as the sum of students conventionally eligible to receive free and reduced lunch. Free and reduced lunch eligibility is determined by the California Department of Education based on annual household income, with free lunch requiring an income of less than $29,939 and reduced lunch less than $42,606 for a household of three people as of the 2022-2023 school year.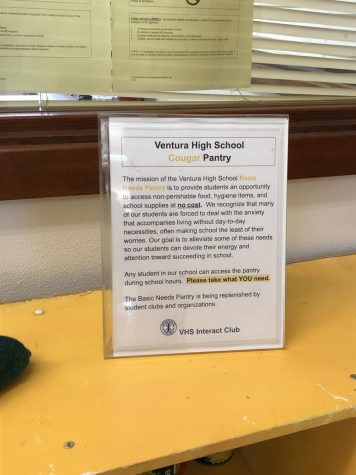 Interact Club Social Events Coordinator Yasmeen El-Meligi '23 said, "I restocked the [basic needs] pantry a few times a week last year. I think it's a great resource for students who need school supplies, sanitary products, food, etc. People should donate to the pantry to help fellow students have access to basic necessary supplies so they are able to do their best."
The basic needs pantry is solely composed of donations. Most donations are made by Rotary, the parent organization of the Interact Club. The remainder of the donations come from the VHS community. These donations are received at the College & Career Center, where they are stored until used to restock the basic needs pantry. Roberts said, "Students first check the pantry to see what supplies we are running low on and then come to the College & Career Center to select items from our storage cupboards to then refill the pantry."
Roberts said, "Students, parents [and] community members can bring donations to the College & Career Center or counseling office during regular school hours. Hopefully, people will want to donate to our pantry to support our school community. The pantry is a valuable resource for our students."