Music review: "Her Loss" deserves better
Opinions on the "Her Loss"
album
On Nov. 4, Drake and 21 Savage released an iconic collaborative album consisting of 16 songs that each average around four minutes.  "Her Loss" is set in a trilogy of Drake's previous albums so that they read: "Certified Lover Boy," "Honestly Nevermind" and "Her Loss." I think this was the perfect album to conclude this trilogy. Although there were many opinions regarding these albums, the focus is now on "Her Loss." I think that all of these albums are great but "Her Loss" is definitely really special to me because it is a collaborative album. 
The cover art for the album was dropped Nov. 2 and sparked hatred — even for me, and I am a huge fan of these artists. 
Adeline Fa '24 said, "I didn't really like the cover. Drake's last three covers were not super creative." 
"Her Loss" also left us fans confused. 
Bella Long '24 said, "I like [the cover] but I don't know how it correlates with the album as well as the name." 
Agreeing with Long, I think the whole album lacked the "Her Loss" feel that everyone expected because all the songs didn't have this tone. They were either very emotional or sexual. 
Travis Valenzuela '24 said, "The album cover is dog s***." 
Honestly, I am going to have to agree with Valenzuela. It is so underwhelming for such a big album by two of the best rappers. Before the album was even released, the cover was unfavored. That attitude carried on to some students' opinions on the album as a whole.
Cal Harrison '24 said, "I think that people hate it [the album] in the beginning, but it will circle back around." 
This is something that many people notice with Drake albums especially. "Certified Lover Boy," Drake's album that dropped in September 2021, is now heavily appreciated, although when it first came out, this was not the case.
 "Her Loss" will definitely be an album that everyone will have to listen to several times for them to truly appreciate it, like us fans do. Personally, I think that this album ["Her Loss"] is pretty good but it will get better the more I listen to it. 
Long said, "[The album] was hard. The introduction really got me hype, you know. Then that slow ease into that album was like a chill Drake album."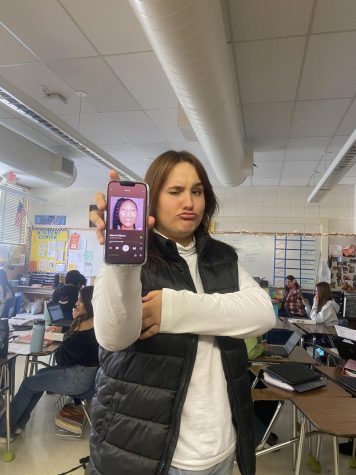 Drake's albums usually have a different vibe and have been more calm so him opening with such a strong song like "Rich Flex" really got us fans excited. 
 Fa said, "I thought overall, it [the album] was catchy and a pretty good album and had a few songs that I really liked. This album is not better than past albums, it is not my least favorite but Drake and 21 [Savage] have better albums. I'd say 'Nothing was the Same' and 'Savage Mode' were their best." 
I think that Drake's albums are very memorable, because he is an artist that just knows how to make memorable songs. He talks about relatable things for those with family struggles, relationships, etc. Since his albums cover such a wide variety of things, it allows for his fan base to be bigger because he knows how to reach everyone in his songs. 
Long said, "It's [the album] iconic. It's iconic because Drake and 21 [Savage] are both on the same album," 
Valenzuela said, "Every Drake album will be remembered over time." 
This is definitely the best way to describe his albums, especially coming from such a big fan. All of his albums are ones I constantly find myself listening to. 
Harrison gave a different perspective; that "Her Loss" would not last for long because it did not have many hits. 
Harrison said, "Drake was in his prime in 2013, now he's like Lebron, he's still the 'goat' but not as good." 
I agree that Drake is not in his prime anymore, but I don't think he is falling off. 
My personal favorite song was "Spin Bout U". This album will be remembered for the artists and the different songs they were able to put out together to make one really unique album. 
Long said, "Don't trip, her loss."