"Terrifier 2" is anything but terrifying
 Overdramatized violence makes the third installment of the horror franchise lack substance and weakens the plot
On Oct. 6, the sequel to 2016's "Terrifier" hit the theaters, "Terrifier 2." Both films were directed by Damien Leone, a horror movie enthusiast and best known for his films "All Hallows' Eve," "Terrifier" and "Terrifier 2." 
"Terrifier 2" tells the story of Art the clown as he terrorizes Sienna Shaw and everyone she cares about. Art, a tall, silent man with an unsettling grin, dressed in black and white, does not speak for the entire movie, which only adds to his terrifying appearance. Sienna, in addition to her friends and family, struggles through trials of peril and horror as Art stalks and terrorizes them. Art also happens to be a recurring character, catching the spotlight in "The 9th Circle," "All Hallow's Eve" and "Terrifier," all directed by Leone.
Despite the movie's promising title, we found the chilling name to be nothing more than a smoke screen. The movie mainly consisted of predictable jump scares and overexaggerated gore to the point where it was no longer believable, and therefore less scary. 
Mac Hannah '23 said, "It was mid, the gore was bad, and it wasn't actually scary like it said it was going to be. it looked really fake."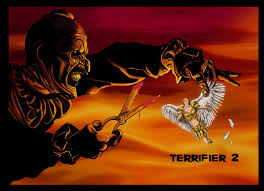 Leone was able to incorporate notable moments of humor which lightened the mood and had the audience laughing out loud at times. We agree that humor rarely takes away from the scare of a horror movie. However, in the case of "Terrifier 2" we found that the jokes were one of the most, if not only, enjoyable parts of the story. Additionally, the gore and violence that normally makes a scary movie good were overdone and unnecessary. 
Natalia Vazquez '26 said, "I loved the [special effects], [and] I honestly want to credit the artist because it was that good. I thought it was actually real."
Before watching the film, we had expected a truly terrifying, adrenaline-pumping experience, hence the names and descriptions of its prequels. Not only that, but the story lost us completely with the unexpected introduction of magic towards the end. The incorporation of magic took away from the question
 of the heroine's survival, and the movie becomes less scary and somewhat boring. Additionally, by the end of the movie, it is discovered that Art is some sort of demon, unkillable and unstoppable. This trope has been exhausted for as long as horror movies were created and made the story feel tired. 
Without a satisfying conclusion but one riddled with both plot holes and unexplained writer choices, we left the theater full of questions we have no desire to know the answers to in a possible "Terrifier 3."