Opinion: "Everything Everywhere All At Once" is a promising frontrunner for this year's Oscars
The absurdist multiverse drama is nominated for 11 Academy Awards, including best picture
The 2022 film "Everything Everywhere All At Once" is a bizarre and heartwarming drama directed by Daniel Kwan and Daniel Scheinert, the duo also known as The Daniels. The film stars Michelle Yeoh and Ke Huy Quan, known for his early roles in "Indiana Jones" and "The Goonies." 
Evelyn and Waymond Wang, played by Yeoh and Quan, are Chinese-American immigrants who run a laundromat business and encounter trouble when they are audited by an IRS agent Deirdre, played by Jamie Lee Curtis. Like many immigrants coming to America, Evelyn has realized that the American dream is no more than a dream and faces the harsh realities of having to take care of her elderly father, a husband filing for divorce and the struggles of being an immigrant whose first language is Cantonese. Evelyn is also struggling to accept her teenage daughter Joy, played by Stephanie Hsu, when she brings her girlfriend Becky to their Lunar New Year party. 
During a meeting with the IRS, Evelyn is greeted by an alternate version of her husband from another universe and is tasked to save the multiverse from an evil variant of her daughter Joy. The film tackles meaningful topics of parenthood, love and generational gaps in an humorous and extremist way that has viewers laughing and crying, sometimes all at once (hence its title).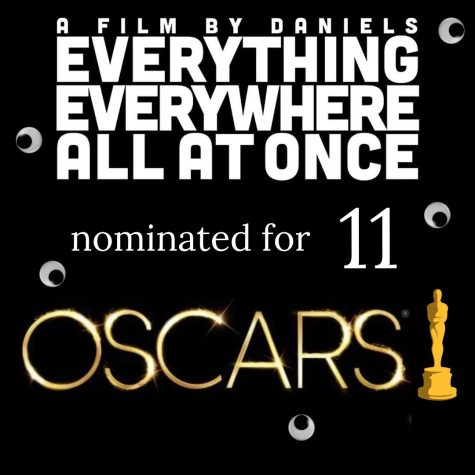 Evelyn is tossed into hundreds of alternate universes within the multiverse where she sees different versions of what her life could have become. She experiences a universe where she is a famous movie star, a rock and even one where she has hotdogs for fingers and is lovers with the IRS agent, Deirdre. Even with the absurdity of the variants, the movie is heartwarming and portrays deep and important themes. In the universe where Evelyn is a famous Kung-Fu action star and Waymond is a businessman, they are unable to be together because of their differing lifestyles. As he leaves Evelyn, Waymond says, "In another life, I would have really liked just doing laundry and taxes with you." 
Jasmine Bruns '23 said, "I liked how the movie built up all this chaos and craziness only to make us realize none of it really mattered and how it connects to the film's inherent themes of life."
Through these experiences, Evelyn comes to many realizations. She grows to appreciate her family and accept her daughter for who she is. She acknowledges the generational trauma caused by her traditionalist father and chooses to break the cycle and treat her daughter better than her father treated her. Many people walked into the film expecting another Marvel-type multiverse action movie, but found quite the opposite. The movie does an outstanding job of combining humor and physical comedy with commentary on topical issues, such as generational gaps, immigration and parenthood. 
Jack Gordon '23 said, "'Everything Everywhere All At Once' expertly wraps up the profound themes of familial disappointments and life regrets in a sporadic and amusing two hours of madness."
The film has won numerous awards, including best actress and best supporting actor at the Golden Globes. It is nominated for 11 Oscars, including best picture, best director and best performance by an actress and actor in a leading role. The 95th annual Academy Awards are scheduled for March 12, 2023 and I predict that "Everything Everywhere All At Once" will win best picture.