Opinion: Alix Earle is the new Charli D'Amelio
22-year-old Alix Earle has gained over two million followers in the past two months
Alix Earle is a fourth-year student attending the University of Miami. Earle began posting on TikTok in 2020 but gained the majority of her followers over the course of the past two months. She became the face of the "get ready with me" trend, which allows creators to share what makeup and skincare products they use, and now has many major brands competing to work with her. 
Earle has gained popularity due to her genuine lifestyle. Her TikToks generally frame her day-to-day life as a University of Miami student. Earle has gained collaboration deals with some large brands, such as Selena Gomez's brand, Rare Beauty.
Alexa Pineda '26 said, "I would say I like [Earle], her videos are a little interesting. She is funny and seems like a nice person, so [I like her]."
At first glance, Earle seems like your average influencer, being that she's the exact picture of society's beauty standards. But Earle is actually a lot more than just another pretty influencer. Earle tries her best to stay real with her audience but while getting ready for major events she still discusses her late nights. In one of her recent TikTok videos, Earle said, "If you're blonde and you're thinking about going darker, you need to really consider your mental state."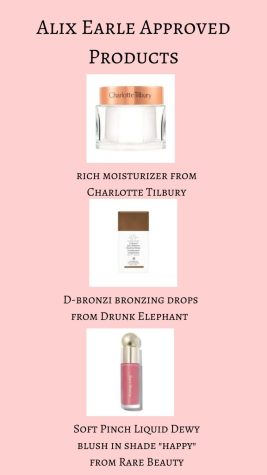 Earle's social media stays unfiltered. She normalizes her accutane treatments and does her best to stay real about her sometimes messy lifestyle. The platform she's building definitely helps young girls and guys create a real vision of beauty in their minds. Her honesty creates a safe space for most, which helped her build her large platform along with her likable personality and funny videos. 
The majority of things that Earle recommends to her viewers on TikTok sell out in minutes. An example of this would be Earle's recommendation of the Drunk Elephant bronzing drops or the Tarte shape-tape concealer. 
Kiera Golden '26, "I have tried Alix Earle's [recommended] mascara. I like it."
Pineda said, "I have yet to try any of [Earle's] recommended products, but I was convinced to buy a couple products from Charlotte Tilbury due to her videos."
According to protein teacher, Earle already has an estimated net worth of $1.2 million. It doesn't look like she's going anywhere anytime soon as she's making a good amount of money from her TikTok creator fund as well as her brand deals and trips.