Sub Zero review: Ventura's new HOT spot to CHILL?
Sub Zero Ice Cream and Yogurt shop recently opened on Main Street in downtown Ventura.  It opened its doors on October 26 and has already created quite a buzz.
Ice cream enthusiasts, science buffs and people looking for a unique dessert experience have all stopped in to see what Sub Zero is all about.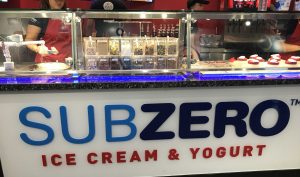 Sub Zero is a chain that serves ice cream and yogurt, including vegan and soy options.
The ice cream is made to order and flash frozen using liquid nitrogen. Flash freezing the ice cream prevents the formation of ice crystals, allowing the ice cream to be extra smooth.
Customers are given the option to choose one of the existing flavor combinations called "Sensations," or create their own using the 40 flavors and 38 mix-in options available.
The available flavors range from your typical chocolate and vanilla to the more exotic huckleberry, pina colada and rootbeer.  And when they say that they the mix flavors together, they aren't kidding around.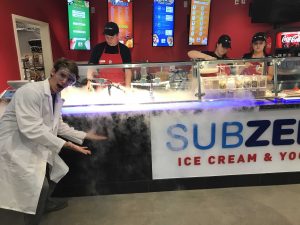 Junior Connor Greene shared his experience with creating his own ice cream: "I went to Sub Zero and decided that I was going to get all of my favorite flavors out of the 40 that were there. It ended up looking like a big pile of grey mess that tasted no good."
They don't just put the flavors side by side, they blend them all together, so make sure you chose wisely when ordering.
After choosing your ice cream flavors, there's a wide variety of mix-ins like mochi, mangoes, heath bars and more that you can add to the ice cream.
When the shop was first opening, many people thought that Sub Zero was going to be serving nitrogen ice cream balls.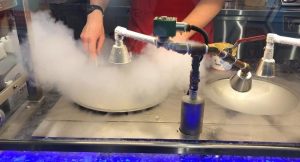 In a recent Twitter poll conducted by The Cougar Press, 45 Ventura High School students voted in response to the question "Did you think Sub Zero was going to serve nitrogen ice cream balls?" 51% of students voted yes, while 49% voted no.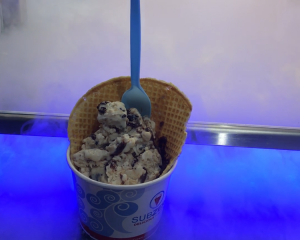 If you are in a hurry, Sub Zero may not be the best option, as each ice cream takes about 10 minutes to be made.
As if that isn't different enough, Sub Zero also caters- which is not normal for an ice cream parlor. So if you are a die hard fan, this is a great place to have cater your birthday or event!
This is definitely a place to try out, whether you just want to see the cold nitrogen smoke or taste the unique ice cream. Who knows, this may be your hang out spot!