Out with the old, in with the new!
Oh no! It's break, and you completely forgot to print out that paper for your fourth period class. So what do you do? Run to the library, already dreading the painfully slow process of ctrl + alt + delete, and spend five or so minutes sitting in a chair waiting for the screen to load.
But wait! There waiting for you is a sparkling, sleek, new piece of hardware attached to the back of the monitor, nothing like the clunky old box you expected to be there. You print out your paper with time to spare, and leisurely walk to class. Is this an alternate universe!?
Now the scenario seems almost too good to be true, but it's the new reality for students at Ventura High School. About a week before Thanksgiving break, the CPU towers in the library -the black boxes you press to power on- were replaced with small boxes about the size of a CD.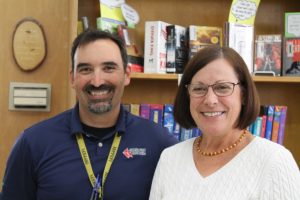 So what does this mean for VHS students?
VHS librarian, Suzan Adamich,  said that the more compact hardware allows for increased table space to place books and work. In addition, the new hardware is much faster. She pointed out small antennas attached to the side of the monitor -also new- explaining that they would eventually be used to replace the internet cables that run through the tables and on the floor with wifi.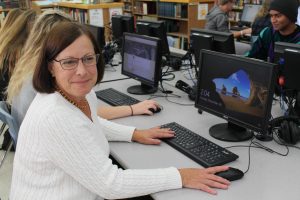 The computers have also been updated to Windows 10, not Windows 7, giving the computers an entirely new look.
The person who spearheaded the installation of the new hardware was Kevin Bauleke, a self described "computer guy," who you may recognize from his time around campus. According to Bauleke, the brand new hardware –the replacements for the CPU towers — each cost about $550.00. There are 41 computers in the library that will be updated, making the total cost of the supplies about $22,550.
However, the funds will not come out of the school budget. The new technology is part of a VUSD initiative to update some of the hardware on school campus' around the district, therefore the district covers the cost of the new computers. And although Bauleke said he did not know the exact number, he said that "at least every school will get some."
Adamich added that she did not even know VHS would be getting them until the day they arrived.
Watch the video below to see the difference in speed between the old and new hardware.