A tie keeps the Buena vs Ventura rivalry alive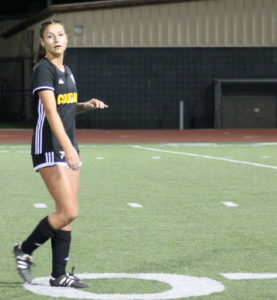 The Ventura High School girls varsity soccer team played an away game against cross-town rival, Buena High School, on Saturday, January 13 at 5 p.m.
VHS scored their first goal towards the end of the first half of the game. Junior Alyssa Moore (number two) was inside the goalie box during the first half and made the first goal of the game. Her teammates then celebrated by high-fiving one another.
After their goal, VHS' defense held strong and was led by senior Samantha Zanini (number nine) who was instructing her defenders until half-time and is pictured to the left.
The first half of the game ended with VHS leading 1-0. The second half kicked off with VHS having the most possession of the ball. Consistently whenever BHS had the ball they would attempt to score, but VHS' goalie, sophomore Kambria Haughton (number zero,) was a strong defender against BHS' shots.
Towards the middle of the second half of the game, BHS scored a goal, tying the game 1-1. The game ended in a 1-1 tie for the two cross-town rivals.