Introducing the first annual All-District Art Show
From Saturday, April 21 to Sunday, May 6, The Ventura Unified School District hosted the First Annual All-District Art Show at the Museum of Ventura County. This show was created through the efforts of the Ventura Arts Collaborative, VUSD, the city of Ventura, the Ventura Education Partnership and the museum of Ventura County.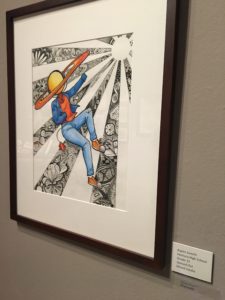 The show had elementary, middle and high school work. There were over 20 Ventura High School students who participated in the art show with either their artwork or photography. According to VUSD, "The caliber of these student artists is a testament to the investment our community has made into preserving and expanding Arts education."
According to Martha Macias, executive assistant of superintendent David Creswell, over 50 works by high school students had been selected from hundreds of submitted pieces – which included watercolors, photography, acrylic paintings, mixed media, and pencil drawings.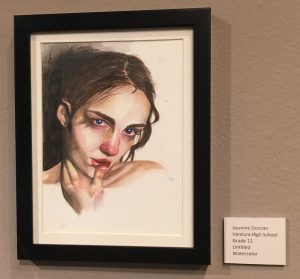 Junior Jasmine Duncan commented that her piece of the "crying girl" was inspired from a "picture on Instagram." She added that her other pieces were inspired by the artist Dilka Bear. Duncan said she enjoys mixing the colors most while working with watercolors.
VUSD also made a statement saying, in light of Measures Q and R, that Ventura made it clear that they believe in the value of art education on public schools.
In photography, senior Edgar Sandoval placed 2nd and senior Cody Beeson placed 3rd.
Beeson commented, "[My 3rd place photography piece] was a portrait I took of [junior] Acacia [Harrell] and then I edited it in photoshop with sort of a 'smoke effect,'" he added, "I've kinda been experimenting with amateur photography for a couple years, but nothing with any structure or rules…" About 15 VHS photography students had their work within the show.
Senior Aspen Leavitt placed 3rd in mixed media. Junior Genevieve Eckert placed 3rd in illustration. Sophomore Sofia Munoz placed 2nd in illustration, 1st in mixed media and won Best of Show.
[huge_it_slider id="35 "]