Girls Tennis secures their first win of the season
VHS girls varsity tennis won their first home match of the season with a score of 14-4 on Wednesday August 30 against Saugus High School.
Throughout the summer, the girls team worked hard to prepare for their upcoming season. Although many valuable players graduated last year, the team is still standing strong.
Senior and varsity girls tennis captain, Maya Krishnasamy, played the opposing team's number one singles player, and won all three of her matches. In the first match Krishnasamy  played, she won 6-0.
"This year should be great!" she said. "We're already [off to] a really good start, and [we] came close to beating Santa Barbara in our first match of the season!" Krishnasamy also added that they have great new additions to the team this year.
Junior Neela Krishnasamy played number three for the singles matches, and also won her first match against the opposing team's number three singles player, Kenna Henderson, with a score of 6-1.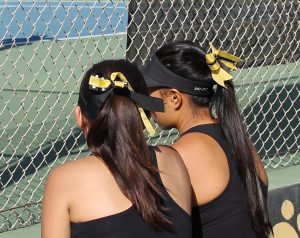 As for the double games in the match versus Saugus, the team's number one doubles players, seniors Susanna Kim and Samantha Eikenberry, won their first match of the day with a score of 6-4.
After this victory, the team is ready for their next home match against Hart High School on Friday September 8 at 3:00 p.m.