Meeting the newcomers of this year's improv troupe
Ventura High School's 2018-2019 Improvisation Troupe had their first shows of the year on Oct. 12 and 13. The VHS Theater Department proudly presented "The Fall 2018 Backstage Café" on the VHS Mainstage from 7:00 p.m. to 9:00 p.m. The doors opened at 6:30 p.m. with live music.
This year, the What? Improv. Troupe consists of 17 new members out of a total of 22. Those new members include: Omar Al Bawab, Odin Anthony, Cole Campbell, Sam Coats, Archer Herring, Kaitlyn Hildebrand, Isabel Mercado, Jezel Mercado, Levi Payan-Foy, Luke Pfeifer, Jaidyn Sellers, Lauren Sherman, Johnny Sinklier, Kaylie Thompson, Alyssia Troutman, Valerie Velasquez and Talia Walsh.
The What? Improv. Troupe's shows consist of entirely unscripted scenarios, which means students have to create humorous lines and scenes in the very moment of their appearance on stage. Senior Kaitlyn Hildebrand, a member new to the troupe, commented on the anxiety of being called on stage, "[Performing in an improv. show] is really nerve-wracking because it can't be prepared; you just don't know what's going to happen."
Hildebrand had assisted in the making of the shows in previous years, but had never performed until she made the team for the first time as a senior. She commented, "I had seen a lot of shows and the backstage [part] of it, so it's cool to see the other side of it as well."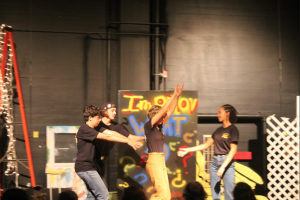 Other students commented on the anxiety of stepping on stage for their first time as troupe members. Junior Johnny Sinklier joked that him and junior Valerie Vasquez, "[Were] freaking out" and "about to fall off the stage and just cry."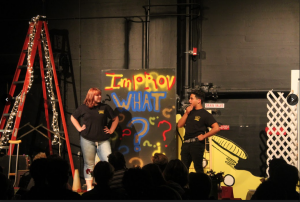 Students also reflected on the moments in which they choked up and created responses that they later regretted. Junior Lauren Sherman commented, "When I played Obama, I didn't know what to say, so I said the word 'yes' over and over again." Hildebrand said, "There were two parts [during the two shows] where I started a sentence and didn't know where it was ending."
Despite the newcomers' anxiety about performing, members had numerous favorite moments that stood out from their first shows. Sherman shared that one of the most memorable moments for her was "when Sam [Coats] pretended to dance." Velasquez said that out of both of the shows, "seeing Cole Campbell pull out a pad out of his shoe without any knowledge of the rest of the team" was the funniest moment.
Next year, there will be new spots to fill, considering the What? Improv. Troupe is highly dependent on its large amount of seniors and not everybody on the troupe right now is automatically put on the troupe the next school year. Therefore, every student has an equal chance of getting a spot. Sinklier added, "Anyone who likes making jokes, [should] absolutely try out [next year]."