Cougars and staff showcase their comedic talent at Faculty Fun-Raiser
On Friday, Dec. 7, faculty and a select few students of Ventura High School came to the stage to perform the annual Improv "Faculty Fun-Raiser," displaying their comedic talents through different games and scenes such as Park Bench, Movie Critic and ABC's. Besides the faculty, What? Improv Troupe senior captains Acacia Harrell and Louis Santia, and senior Troupe members Bridget Boland and Ren Tallent performed.
Senior Emilio Barrera, who attended the show, commented that his favorite moment was during a game named "Movie Critic," where a few individuals play the role of critics of a scenario that other individuals are simultaneously acting out. In this show, the scenario for the movie was "Bacon: The Musical" during which "Mr. Castillo was just repeating 'bacon' for the whole scene," according to Barrera.
Sophomore Melissa Prince commented on the show, saying that the parts that made her laugh most were "when the teachers make fools of themselves or when they say something off."
As for the participants on stage, Santia, who has taken part in the Troupe for all four years, commented that he feels grateful to have progressed into taking part in the Faculty Fun-Raiser, which very select few of the Troupe get to do. He said, "This weekend was really crazy because ever since I was a freshman, I would go and see the Teacher Improv, and I'd see my captains of that time do that – work with the teachers – and I didn't really think about how I'd do that eventually until last year, and now it's fully come to fruition and now I'm doing Improv with the teachers."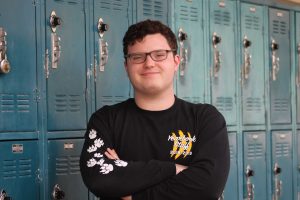 Many of the faculty also commented on feeling grateful and accomplished in having participated in the show. Susan Adamich, VHS librarian, participated in the show for her fourth consecutive year. She revealed that she had volunteered to participate, mostly because "it's fun, and most teachers are Improv people everyday in their classroom anyway, so it's easy, it's fun, and I just like to act silly."
As for the preparation for the show, she said, "[The faculty] had practice after school for about the past month" and "[Stefoni Rossiter] gave us a chance to practice and interact with each other," which she said she was really grateful for. She also added that an immense part of the experience were the faculty who "were just really fun people to work with" and made her laugh.
Although some commented on their favorite moments from the show as a whole, most concluded that every participant brought value to the show as, according to Santia,  "everyone has a unique way of being funny and that's why it's great to have such a diverse group of people."