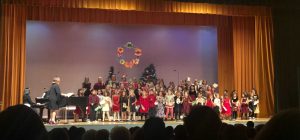 Ventura Unified School District's all-district choirs had their eighth annual "Share the Joy" holiday concert under direction of Heidi House on Friday, Dec. 14 and Saturday, Dec. 15 in the Ventura High School Auditorium.
Noteables, Crescendo and Company were accompanied by Miriam Arichea on the piano with choreography done by Madeline Schreifels.
Noteables started off the night with "Snowbiz Snowman," followed by "Lotsa Latkes," "Hot Chocolate," "We're Going On a Sleigh Ride" and finished with "Holiday Paper Wrap."
Crescendo performed after Noteables, starting with, "It's the Most Wonderful Time of the Year." They also performed the songs, "My Simple Christmas Wish" with Tessa Shinden as the soloist, "A Song of Santa" and "Hot Chocolate."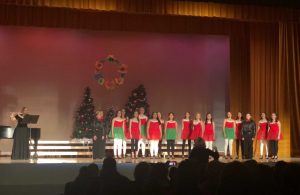 Cabrillo Middle School eighth grader Vanessa Mercado, in her second year apart Crescendo, stated, "The first show made me a little nervous but in the end I think it went great!" Mercado explained that House has taught her all throughout elementary school and loves being apart of the choir.
She added, "My favorite part of the show was when we performed our first song called, 'It's the Most Wonderful Time of the Year.'" I liked it because it was a choreographed song that did not need any freestyle dances."
VHS senior Christine Martin accompanied the songs, "Cooroo Cooroo" and "Hushabye, Nanita Nana," playing the flute for Crescendo.
Martin explained that she has known House since she was four and loves to help her in any way she can. She stated, "It was really fun to work with her again along with the Crescendo group! My favorite part was going from rehearsal to performance and seeing how excited everyone was to be there!"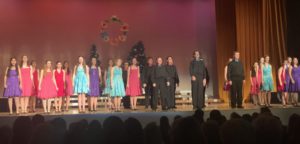 Performing last was Company, that performed "We Wish You the Merriest," with VHS senior Cole Campbell as the soloist, "Bonse Abba," "Winter's Heart," "Candy Cane Lane;" "White Christmas," with VHS seniors Luke Pfeifer and Ren Tallent as the soloists; "A Hanukkah Wish," with VHS junior Annalyse Verstraeten and Foothill Technology High School senior Hannah Yale as the soloists; "At Christmas" and "That's Christmas to Me," with FTHS junior Meghan Carter, FTHS senior Yoanna Soliman and Pfeifer.
Pfeifer, who has been in Company for two and a half years, stated, "Well, my favorite song was obviously 'White Christmas' because the boys choreographed it and my little run at the end."
Tallent said, "I joined [Company] second semester sophomore year when Heidi recruited me after Footloose auditions. My favorite part of the show is honestly the rehearsal process because while it's hard and [takes] long hours, I get to bond with everyone a lot. Also the feeling of harmonizing is one unlike any other."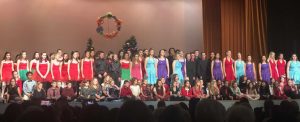 For two songs, "The Night That Christ Was Born" and "Oh, Holy Night," VHS SAP Counselor Bobbie Richards was the guest conductor. Andre Richards, Richards' son, was the accompanist and Yomaira Falcon was the soloist.
Finishing off the show, all three choirs sang "Imagine" with House leading them.
Sophomore Jaidyn Sellers, who is in her second year with Company, explained her favorite song was the acappella number, "That's Christmas to Me." She stated, "I kind of thought of this whole concert as a memorial moment because a lot of the songs were the same as last year's. We didn't have a holiday concert last year because of the fires, so this year it was extra important."