Students Perform Showcase Under Pressure
On the night of Feb. 2, Ventura High School students displayed both their comical and dramatic acting abilities, touching on a wide array of subjects. They had two rehearsals to prepare, and because of their limited time to prepare, many students communicated having been stressed.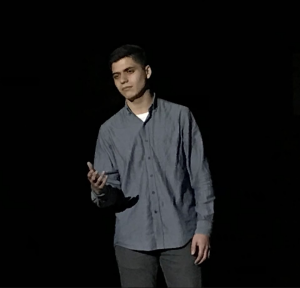 The night began with members of the VHS "What?" Improv Troupe swarming the stage to play games for the crowd, along with VHS staff members librarian Susan Adamich, agricultural biology teacher Amy Lewandowski, assistant principal Chris Murphy and computer science teacher Linda Bergfield.
After intermission, the night's MCs, seniors Sam Coats, Archer Herring and Avenlea Russian and junior Miles Bennett, introduced junior Lauren Sherman, who performed a monologue she wrote called, "Stalker 101." She portrayed an obsessive teenage girl talking to her crush. Her performance showed how teenagers can frequently over-romanticize their crushes to a scary extent.
Another monologue in the show called, "Moments Like This," was written and performed by senior Isabel Mercado, who displayed intense emotion, shedding light on the realities of being a woman enduring sexual harassment. She described a life of being followed repeatedly and having men stare at her, as if she were an object and not a human being.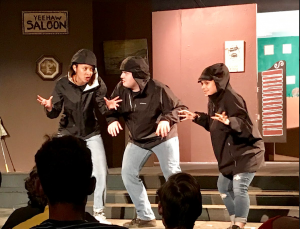 Other scenes, such as the one from The Crucible, performed by seniors Louis Santia and Brooke Stevenson, featured dramatic performances as well. When asked how hard it was to get into that sort of mindset, Santia said, "It's really interesting. I'll be backstage and be about to go on, and it's just kinda split second. It's not a super long process, but it's hard to get into character."
When asked about the short amount of time, Santia stated, "I think that the rehearsal, as much as it's short, is kind [of] scary." Another actor in the showcase, junior Molly Sturgeon, described it as "a bit difficult, especially with [Stefoni] Rossiter not being able to be there on the first day."
Despite this, everyone held up, and much of the audience enjoyed it. A member of the audience, senior James Vreeland said, "[The showcase] was excellent, most of the [scenes] were absolutely wonderful. I really enjoyed Brooke Stevenson and Louis Santia's crucible scene. I also loved seeing Ms. Adamich [doing] improv."