Take a seat! Or…maybe not.
When you think about being in a classroom, the first thing that comes to your mind might be sitting at a desk and being able to comfortably do your work; well this isn't the case for many students in a lot of Ventura High classrooms. In previous school years—and this year especially—there has been a shortage of desks in several classrooms and many classes are over-enrolled, this causes various complications when it comes to seating arrangements, student-teacher engagement, classroom environment, and teachers' workloads. Many students, teachers, and Ventura High School staff members are wondering why this predicament is so consequential this school year compared to previous years; this is a question that has yet to be fully answered.
It is no surprise that the English Department is most severely affected by the issue of overabundant classrooms since all Ventura High School students are obligated to be enrolled in English for all 4 years. However, this does not make it any easier to justify the difficulties students face when attempting to function in such large classrooms.
English teacher, Erin Jones, argues that, "[the school board is] not acknowledging that students need to write, that they need individual attention when they write, and that the bedrock of all you're going to do is read and write for success in life."
Many students would agree that English classes are especially important since writing skills are a necessary tool once one begins taking college level classes.

English teacher Greg Raney noted that, "beyond the workload for teachers, it's also difficult to give students the help they need because in order to compensate for [the larger class sizes] there is either less writing assigned or there is less helpful feedback given."
Raney brings up a good point regarding the teachers' workloads, he says that, "The amount of time it takes to grade an essay multiplied over that many students over that many classes; it just grows exponentially to the point where it's hours and hours of work needed."
The burden placed on teachers in this situation is often overlooked as the main priority for a classroom is for students to learn.
Despite many English classrooms being crowded with students, they are not the only classes facing this issue, "In my Italian 2 class I have 41 students and there are barely enough desks for all of them," says Italian teacher Claudio Lonardo. In addition to problems such as focus and one-on-one communication, Lonardo says that "It's hard to keep track of all the students so many of them take advantage of this and get their phones out," thus proving that distraction is yet another issue that affects students' ability to learn productively. In fact, a study conducted in the late 1980s called Project STAR proved the notion that a reduction in class size increased student achievement significantly as there were less distractions and more student-teacher engagement. Jones mentioned that "with that many kids it's hard to have your voice heard […] It's not as intimate or engaging sometimes."
So this begs the question: How can this issue be solved? Well, one important question to ask when distributing students would be: Which classes can afford to have more students without impacting their learning environment? On top of his 3 Italian classes, Lonardo also teaches a P.E. class with 48 students which he says is "obviously, a different story" since students do not require a desk to sit down and write at or as much communication with their teachers. Jones noted that, while it was frustrating to take on the challenge of more students, "that's not to say that [her] colleagues who teach elective courses deserve to face the same burden." As Raney put it, "this is all one big puzzle that is challenging to solve."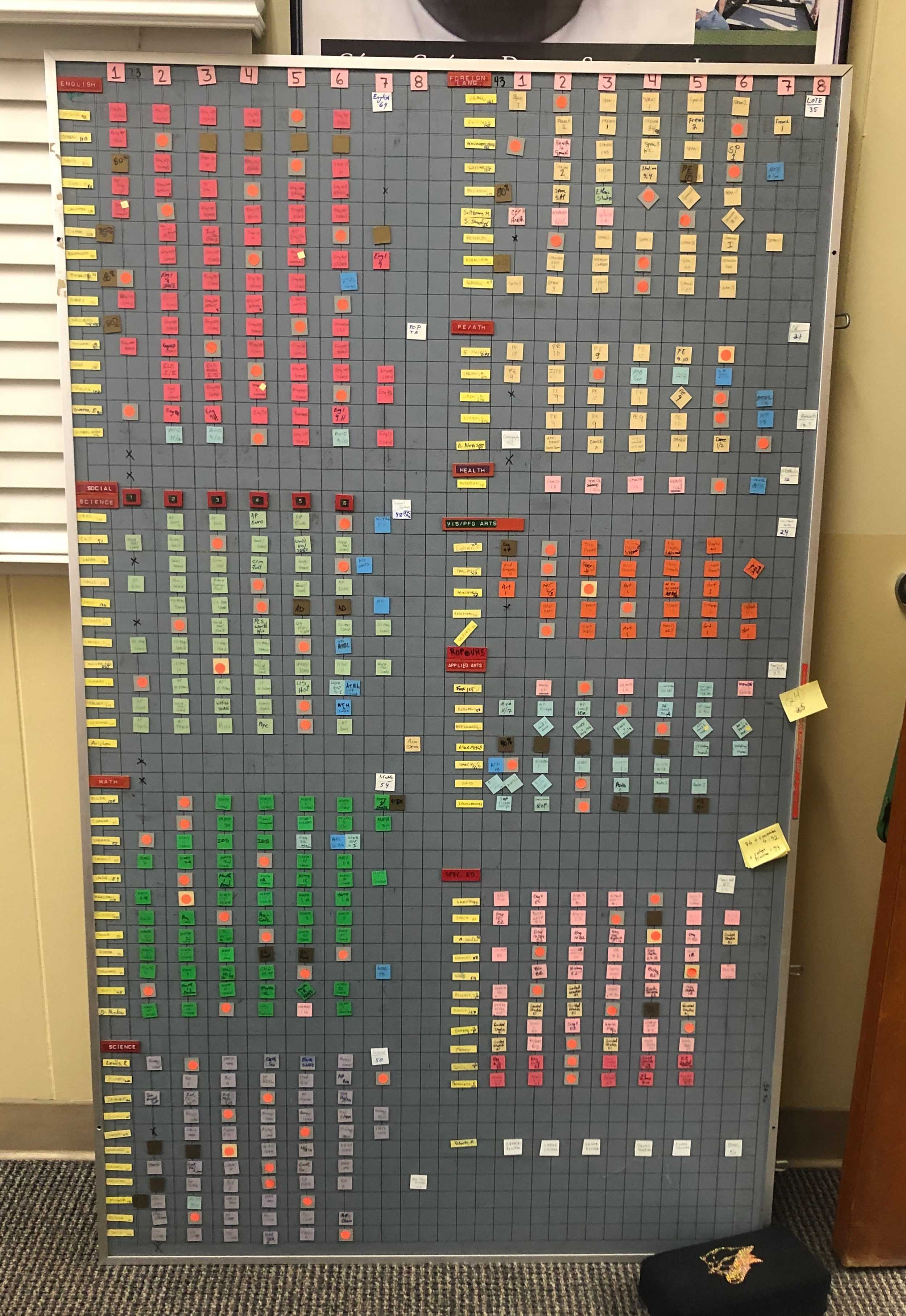 Fortunately, teachers from Ventura High's English department got the chance to get their voices heard in a meeting with Mr. Cohen last week. When asked about the issue at hand, Assistant Principal, Chris Murphy, said that "there is a very detailed answer to this […] Our master schedule is student generated, and what that means is that all student registration forms get put into a computer to automatically generate schedules based on student need." Murphy explained how there are many different formulas that go into the computer, for example PE classes would require a different formula than computer classes with only a set amount of computers. Despite the use of technology's superior math skills there is not a 100% success rate in generating functioning schedules for every single student. This is why "our counselors are working very hard to take those students who had scheduling issues and put them in their classes by hand." Counselors are also working hard to "level classes" so that core classes such as English and Math will not be as full.
In order to level classroom sizes, "Mr. Cohen has been talking to the district to try and get the school one extra class opened up however that would cost about $20,000."
This Tuesday, September 3rd, over 100 students were called into the auditorium during 5th period in order to receive changes in their schedules. Sophomore Joshua Smith got called into the auditorium and was never given a clear answer regarding the reason behind the changes in his schedule, he noted that "They kinda just talked about how there were a bunch of students who needed schedules changes […] but it seemed like it was mostly because of freshmen so I didn't understand why there were a bunch of sophomores and juniors there." Smith brings up a good point; if the school already knew how many sophomore, junior, and senior students were enrolled last year, how come some of their classes are still overenrolled and why are their schedules being changed?
Counselor Sonja Frias commented that "[the school] is still trying to do some data analysis" regarding why the issue of over-enrollment is so prominent this year, she mentioned how "the last time it was this significant was probably six years ago when we had a class that came in that had about 75 extra kids."
When asked if they thought that Ventura High School had too many students enrolled, Mrs. Frias and Mr. Cohen both responded that it was not an issue of over enrollment in the school but rather the organization of schedules and accounting for new enrollments that were not anticipated.
Cohen explained that, "[The schedule] was built based around the number of students projected for this coming year and at the beginning of the school year we had extra kids register so that drives numbers in certain classes higher." Another possible reason behind the issue could be a lack of money to open up more classes, Frias mentioned "I don't think we have too many kids it's just that if we have so many kids we should receive that much more funding to be able to open up more classes."
Though the issue of high enrollment in certain classrooms is still present it is clear that the school is not ignoring the concerns of students and staff members, principal Cohen assured that "generally, when [the school] has [called students to the auditorium] in the past, the first week takes some time for students to get settled into their new classes," and with anticipation, this rocky beginning to the school year is only temporary.