Improv: Acting's hardest skill- or is it?
The inner workings of Ventura High School's What? Improv Troupe
On Sept. 26th and 27th, 60 students lined up to audition for the 13th annual What! Improv Troupe. The auditions were open to all VHS students to participate. They consisted of students playing a numerous amount of acting games such as ABC's, revolving monologue, story line and more. The auditions kept students on edge as they waited until Sept. 28th to find out who made it onto the callback list.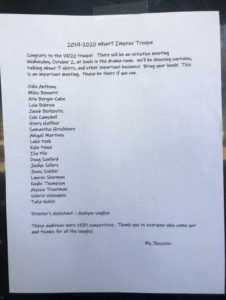 Only 20 students made it to the callbacks, and Ms. Rossiter explained, "The auditions were very competitive." She adds, "There are some familiar faces, but there are also quite a few new faces to the troupe this year, so that kind of adds an element of excitement."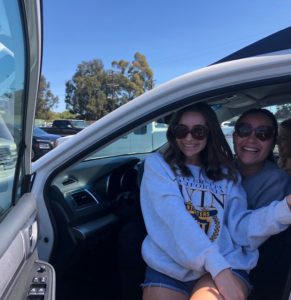 Junior Kylie Pence states, "This is my first year on the improv troupe and so far it is pretty fun. My older sister was on it, and I've been to all of her shows so I know what it's like."
Junior Sammantha Hirschhorn commented, "It's also my first year on the improv troupe and I'm really excited because last year I went to most of their backstage cafe shows and they were super funny, so you should definitely go if you want a good laugh."
Since the show is improv, it means that the characters and dialogue are made up on the spot. This can be especially nerve racking for actors. Pence adds, "I'm nervous but excited! The troupe this year is also very diverse, so I am excited to make lots of friends."
Hirshhorn said, "I'm personally very scared because if I do really bad, then no one will laugh at me, but they will just laugh at how bad I am so it's all right."
Junior Jacob Berkovitz states, "I was so nervous during the audition that I was thinking about leaving. I was pretty stoked to find out that made it onto the troupe because to be honest I did not think I would make it."
The improv troupe hosts its first show on Friday, Oct. 18th inside the auditorium. At each show, the audience can expect to watch each student perform various games and activities that will strive them to want to come back again.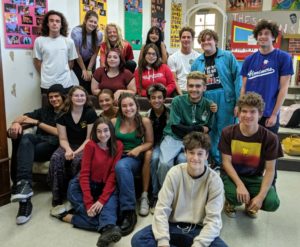 There are 12 shows total, consisting of four backstage cafes, two shows in the fall and two in the spring. There are also four smaller shows that take place in the winter and spring drama showcase.