They harmonize before the sunrise
Members of Company, Ventura Unified all district Choir, sing before everyone wakes
It was 6:16 a.m. on Oct. 8, the sky had slowly started the process of changing from black to a cool blue. Outside the drama room, 12 kids stood in a loose circle talking and laughing. As more students began to trickle in, show choir director, Heidi House, came and unlocked the side door, leading to a grand piano in the center of the stage where she set her bags. Around this piano, students formed a half circle, each with a folder full of sheet music. 
Before any singing could begin, the conversations had to stop, which took fifteen minutes, give or take: "[House] mostly starts [class] with a conversation, and everybody gets into them," noted freshman Arkiran Khaira, who has been in show choir with House since 6th grade. While some may have viewed this as a distraction or waste of time, Khaira had a different opinion.
"You have fun going, you look forward to going, because all the people there make it fun," she added.
As the class began to warm up, the harmony of the piano and 32 different voices filled the auditorium. House's hands traveled up the keyboard, and students warmed up their voices by matching pitch to the piano. The exercise continued, and students started to do the Macarena, according to House, to pull focus away from their voices and bring it to their bodies. This would allow the throat to relax and warm up properly. 
"Heidi…she's an eclectic teacher," noted senior Cole Campbell, a four year choir student and a student of House since Kindergarten: "She is a very good person and she's a very good director."
The class was then separated into three circles: sopranos, altos and baritones, where they practiced for House's favorite event of the year, the holiday concert.
"It includes all of my students, and typically I'll have between 130 and 150 kids…they sing 'Imagine' [by John Lennon] and everybody cries, including me."
The concert takes place at Ventura High School, and this year is on Dec. 13 at 6:30p.m. and 14 at 2:00p.m..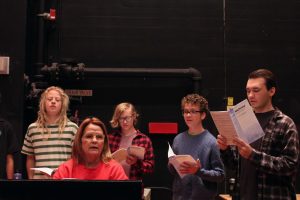 When asked about the choir's other events, House talked about their most notable performances, saying, "We participated in an album to support Thomas Fire victims, we opened for Big Bad Voodoo Daddy when they did a benefit concert here, we sang at Olivas Adobe one time before a big concert…It's fun to do those outside events." Though she acknowledged her appreciation for those opportunities, House was quick to add that "It's great to do all those things that, you know, have those big names but…it's really about the kids, that's exactly what it is."
Sophomore Riley Stork was later asked the same question, when he laughingly recalled that "as a joke, someone suggested we do "Kung Foo Fighting" from "Kung Foo Panda", and so we did do that, and it was honestly really fun."
After sitting in on the class, what seemed the most noteworthy aspect was the natural bond between House and her students: "We really are close, and it's a wonderful place to be, and that's the thing I'm most proud of…we're very inclusive, and diverse, and…it's the happiest," she added fondly. 
As students filed out at the end of the period, jokes and comments were exchanged that clearly showed the informal connection that they all share. Looking back at House, she said, "This is what we are, we're a family, and it's the best thing in the world."
After my momentary audition, which House insisted upon, she mentioned that although it's not ideal for students to join after auditions in early June, she "would love to have more kids…There's always room for talented people."