Say What?: Improv Troupe presents their first show
After enduring fierce auditions, this year's improv cast proves they've got what it takes
On Saturday Oct. 18, a talented group of students known as the What? Improv Troupe debuted at the Backstage Cafe. The show consists of performing skits much in the style of Whose Line Is It Anyway?, a short-form improvisational comedy show that rapidly gained popularity in the early 2000's.
It is worth noting that this year's auditions were exceptionally competitive. Stefoni Rossiter, theater teacher and director, said, "there were over 60 people competing, and out of those people only 20 were selected, so you can imagine how combative the auditionees were."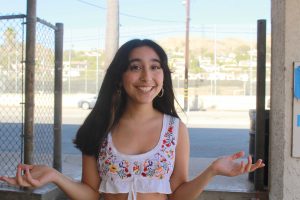 Junior Abigail Martinez was one of the 20 excited to earn a spot on the troupe. Martinez said, "I've been on the troupe for about a month and it's cool, I really like it. My favorite part [of it] is definitely the people, they're so funny."
Senior Cole Campbell, initiating his second year on the troupe, acknowledged the contrast between the current and former groups, stating that, "Both the troupes have been completely different vibes. Last year felt more tight knit and strict, whereas this year feels more loose and family-like, where we can be ourselves and have fun."
As for the first show, Campbell reveals that Friday's show was, "very nerve racking yet exciting. Everyone was on their toes, we really got it together and knocked it out of the park. This was a very important show for me because I realized that it was my last first show, which got me a little emotional, but there are no other people that I'd rather spend my [time] with."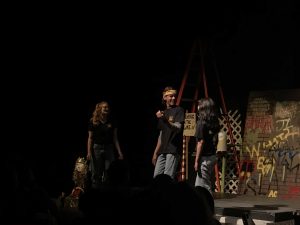 Senior Talia Walsh, also a returning member, shared her favorite part about participating on the crew. Walsh commented, "Just being able to perform and have fun with my friends is amazing. At practices, shows, and after them we are always having fun and we get super close to one another. The Friday show was great because it really showed how well we work together as a troupe." Walsh finalizes by voicing that this year she's excited for, "the growth we will have as a troupe, because the closer we get the better our shows will be. I'm hoping that we'll get as close as last year's group since being comfortable with each other makes it much easier to do improv with one another."
This year, the improv performers partake in a total of 12 shows, including four backstage cafes and eight shows in the drama showcases. The cast looks forward to their next performance in the winter drama showcase.