Benefit Concert tugs at the heartstrings
[dropcap size=small]O[/dropcap]n the eve of Oct. 23, students donned black ties and dresses, readied their instruments, and transformed the Ventura High School auditorium. That evening, VHS Music Department Head Paul Hunt's students joined in musical matrimony to produce a concert that left audience members transfixed by their harmonious union.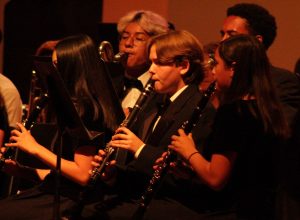 "I feel the concert was a success and both the performers and the audience enjoyed themselves," stated Hunt, "I think that the students work incredibly hard and performed some highly complex and challenging music."
Many of Hunt's students agree on the concert's success, with senior India Hill saying, "I think the concert went really well. I'm proud of everyone in the Music Department. I know there was a lot of stress leading up to it, but I think overall it was a very successful show."
The stress Hill refers to could be attributed to the limited rehearsal time, which Hunt described as, "about 2 1/2 weeks of extreme mental focus and effort."
"It's always tough preparing for concerts and the pressure gets even higher, since [The Benefit Concert was] our first big concert of the year," stated senior Myles Marr, "but what really got us through the stress of learning these pieces was how exciting and fun they were."
When asked what piece they found the most challenging to learn and play, students often answered within one second, following with sighs of relief, nervous chuckles, and complaints about the fast tempo of said piece.
But, most of the students interviewed cited the piece that they found the most challenging as the piece they enjoyed playing the most.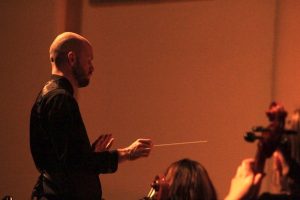 Hunt felt that the most challenging pieces were Marquez's, "Danzon No. 2," a classical piece performed by Symphony Orchestra and Sammy Nestico's, "Wind Machine," a Big Band Jazz composition performed by Studio Jazz Band.
On, "Wind Machine," Marr stated that, "The high range and really fast tempo of the piece made it really difficult to get right."
The students' success at the Benefit Concert might have something to do with their teacher, judging by the fact that his students sung his praises with little to no hesitation.
"He's a really cool guy," stated senior Sophia Rocha, "People are intimidated by him, but after four years of knowing him, he's not scary." Hill elaborated on Hunt's, "intimidating," demeanor, stating, "I know he gets kind of a bad [reputation] for being scary, but I don't really think that he is. I just think it takes a little to get used to him and his teaching styles, but he's a great teacher and we learn a lot from him."
Senior Daniel Kim added, "He keeps a very high standard on us, but it's there for a reason. I feel that when we don't hit his expectations it's disappointing. And I think working with him is a great experience."
Senior Megan Ditlof even went so far as to refer to Hunt as her, "surrogate father," with senior Chase Cormier sharing the same sentiment.
"He's great," stated Cormier, "Think of him like a dad, but he's not."
About halfway through the Benefit Concert, James and Stacia Helmer, the parents of the late Cameron Helmer, took the stage. The Helmers spoke about how much how much the Music Department meant to their son and announced that they would be donating a large sum of money to the VHS Music Department for the second year in a row, stating that, "It's what Cameron would've wanted."
The Wind Ensemble's performance of Persichetti's, "O Cool is the Valley," was dedicated to Helmer's memory.
Hunt informed the press that the funds accumulated from ticket sales, concessions, donations and the Helmers's generosity, "goes towards funding [aspects of the music program], including transportation, playing new and exciting music, repair and providing for special guest artists to work with the musicians."
On plans for the future, Hunt stated that, "We are looking forward to carrying the name of the VHS Music Department to Nationals in Chicago this year and playing some amazing music."
Later this year, the Music Department's Wind Ensembles will be having a concert on Nov. 20, the String Orchestras will be having a concert on Dec. 8 and the Concert Band will be putting on a concert on Dec. 18.