VHS art students take a trip to ancient Rome
Getty Villa welcomes VHS art students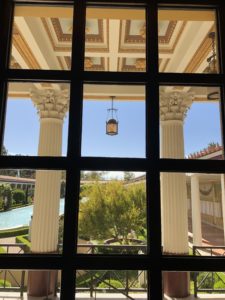 [dropcap size=small]C[/dropcap]hances are if you've driven on the Pacific Coast Highway, you've seen the cream colored, two-storied villa with Roman columns. Ventura art students made their way on a sunny Oct. Monday morning to the captivating Getty Villa. Although the Palisades' fire smoke could be seen from the Getty Villa, the villa still remained as stunning as ever with its mostly blue skies. It's no surprise that Lady Gaga would choose such an entrancing location to shoot her Paparazzi video.
Opened in 1974, the design of the villa was inspired by the Villa of the Papiri at Herculaneum, a Roman town in Italy buried under the eruptions of Mount Vesuvius in 79 A.D. 
The Getty Villa showcases Greek, Roman, and Etruscan antiquities within Roman-inspired architecture and surrounded by Roman-style gardens. The collection has 44,000 Greek, Roman, and Etruscan antiquities dating from 6,500 B.C. to 400 A.D. and approximately 1,400 are on view at the villa.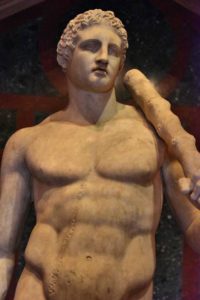 Junior Meriah Argueta shared that what caught her eye most at the villa was the "guest garden with all the pretty flowers and sculptures." Argueta adds that she "learned more about Greek, Roman, and Eutrician artwork and the type of style they each portrayed," compared to before she visited the villa.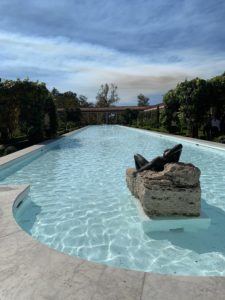 The Getty Villa garden is very inspired from the original garden of Villa of the Papiri. Mediterranean plants like pomegranate trees, myrtle, ivy, and oleander can be seen around the three foot deep central pool. Gardens were used not only for aesthetic purposes in ancient Rome but also had practical uses like ventilation and tranquil sanctuaries where people could cool down.
Senior Ashlyn Velarde was among the many that were drawn to the Getty garden for its serenity, "The garden and walkways around the garden [were] just a nice environment and felt calming."  
Whether you're interested in a soothing environment or a trip back to the past, consider visiting the Getty Villa.