Anatomy of Gray practice has us hooked on a feeling
Actors and stage managers disclose the details before the curtains unfold
[dropcap size=small]T[/dropcap]alented actors and stage managers come together on Anatomy of Gray to create a great production. "Anatomy of Gray", written by Jim Leonard Jr. and directed by Drama Department Head Stefoni Rossiter, debuts on the 15th of Nov. while rehearsals started in late Sept., usually every night, lasting around three hours.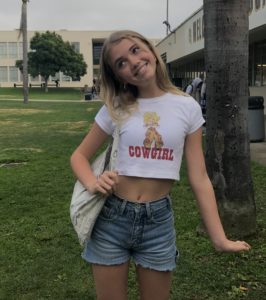 June Muldoon, one of the main characters of the play, is a fifteen year old who is bored and lonely. Muldoon is played by sophomore Nicola Blunt. Blunt revealed that actress Winona Ryder inspired her to try performing, "[Winona is] my idol. Her [acting] in 'Heathers' really changed the idea of acting for me. I've always had an attraction to being on stage so I just wanted to give it a shot."  Blunt stated that she's most excited to "perform" and "see the crowds reaction" since it's her first year performing in a play.
Senior actress Sophie Rocha, who plays Rebekah Muldoon, shared that her favorite thing to do during rehearsals are joking around with her classmates since "inside jokes are kind of my main source of entertainment backstage." Rocha shared that the way the story of the play is "pretty wacky" and adds that "there's a lot of breaking the fourth wall." The fourth wall is a term referring to breaking the invisible barrier between actors and the audience, this can be done by directly referencing the audience. Since her sophomore year, Rocha continues to do breathing exercises and meditations to calm herself before a show.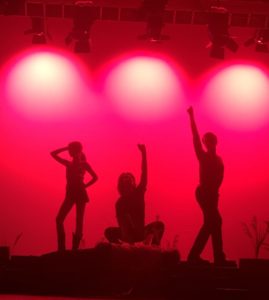 Blunt stated that a favorite part of rehearsing the play is, "definitely tech week", where actors get to put on costumes, makeup, try the lights out, put the music and sound effects in because "it makes [the rehearsal] feel really close to the [actual] performance."
Blunt also emphasized how essential stage managers are to the play, "some [stage managers] move props around and some call out lines if [the actors] forget them…they're really helpful, without them we wouldn't know what we'd be doing."
Sophomore Joseph Lombardo plays Homer, a teenage farmer. Lombardo uses the song "Hooked on a Feeling" by the rock band Blue Swede to warm up his vocal chords and get his voice loud.
During rehearsals, senior Max Bolle, the Stage Manager, is up in the lighting room giving sound, lighting and any important scene or set changes cues.
 Junior and Assistant Stage Manager Angelina Flum shared Blunt's thoughts by saying that, "I'm really looking forward to the audiences reaction and new people getting to see [the play] for the first time."
Flum remains backstage to give actors important cues, and doing any set changes. Among doing these things, Flum also states that one time during the play she "throws a boot on stage." Flum also added that contributing to the play is "really fun!" and that the work she does is "challenging at times but the payoff is really rewarding." 
Now you know what happens behind closed curtains for the Fall 2019 play!