On a sunny Saturday morning in downtown Ventura, Ventura High School senior Yalda Kotobi sat outside Palermo Coffee to sell and sign copies of her recently published book, "A Blissful Youth."
Passersby stopped and listened to Kotobi, as well as other featured authors, describe their work and the inspiration behind it.
Kotobi began putting her book together during her junior year and published it in Sept. 2019. The book consists of a collection of poems written by Kotobi at different points in her life, ranging from when she was 10 to her current age, 17. The poems all focus on the theme of growing up and the phases that come with it such as achievement, sadness and the effects of social media.
100 percent of the proceeds earned by "A Blissful Youth" go towards funding School On Wheels, a non-profit organization which tutors homeless children all over the nation. Kotobi has been an active tutor for the organization since she was 12 and her dedication to helping students in need inspired her to help them further.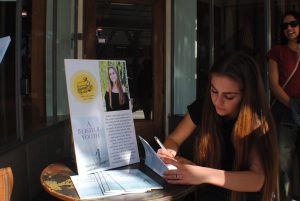 "I wanted to somehow give them extra funding and more support to their mission of spreading education," stated Kotobi.
Another unique aspect of Kotobi's book is her inclusion of the students from School on Wheels. Within the book, each poem features one or more works of art drawn by students in Ventura County who have benefitted from the organization.
Kotobi explained, "I sent out my poems and asked the kids to use them as a prompt to illustrate something based on what they felt. It was really cool to see how they reacted to my poems."
Though Kotobi was reluctant to share her private work, she overcame this fear and published it for the sake of educating homeless children across the nation.
Her mother, Nazanin Kotobi explained, "When we first started tutoring … [Yalda] had a tough time seeing the things that she saw because domestic shelters and stuff are not easy to handle when you look at them."
This is no surprise considering that most 12 year olds do not spend time tutoring in domestic homes, shelters, and foster homes. However, Mrs. Kotobi added that "[Yalda's] sadness became her courage," and as she kept tutoring over the years, she eventually decided to share her poetry to further support the kids she worked with.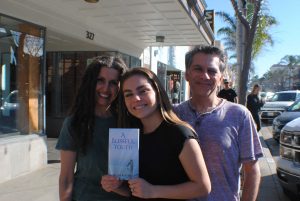 Kotobi's parents have consistently supported her throughout her time tutoring for School on Wheels and while writing her book.
"My family and I have always been interested in helping our community and we believe that education is one of the most powerful forms of foundation that you can spread," said Kotobi. Expressing the same sentiment, Mrs. Kotobi continued, saying, "As a family we believe in education… Whether it helps you get out a situation, change your future, or even invent something that can make this world a better place."
Through Kotobi's tutoring, she feels as though she is giving the students an important tool to succeed in life.
Kotobi has already sold over 1,000 copies of her book, and will be attending another book signing event on Nov. 16 at the screening of "Lost in America" which is a documentary about youth homelessness. Her book can be bought online at blurb.com for fifteen dollars.
As Kotobi finishes her senior year, she will continue to tutor students at School on Wheels. She plans on pursuing her altruism in college through other clubs and organizations, since encouraging education is something that she is passionate about.