Teachers made a hoot at the faculty "fun-raiser"
VHS faculty showed their silly side to raise funds for the drama department.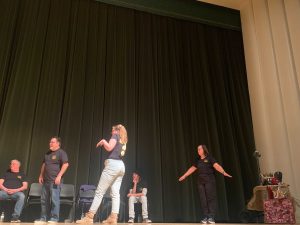 [dropcap size=small]O[/dropcap]n Friday Jan. 10, Ventura staff members performed in the sixth annual faculty "Fun-Raiser" to let it all go for a couple of laughs. The funds raised by the improv show went to benefit the VHS Drama Department. The show consisted of structured improv, where the plot, scenes, characters, and dialogue are made up on the spot.
Stefoni Rossiter, teacher and director of the Drama Department, said that the Faculty Improv Fun-Raiser "not only raises funds, but also builds community within Ventura and is a really good way for students to see their teachers in a different light. It's a way to laugh and play together in a fun way."
"I think [the show] was fantastic," continued Rossiter. "We had a couple of people that were brand new to us that I hadn't ever seen perform. They really stepped up and were brilliant, I was so proud of everybody."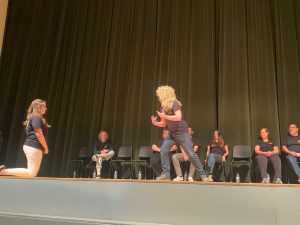 Sebastien DeClerck, a faculty improv returnee, commented, "I love hanging out with my colleagues, we're all really good friends and have lots of fun together. I think we have more fun than the audience does, but it's a great time." 
Susan Adamich, the head Librarian at VHS, has been a part of the faculty improv show since its debut. "I love being silly," said Adamich. "It's very fun, there's no rehearsal, no memorization, it's just having fun. From my seat it was very fun, everybody did a good job and I hope that everybody enjoyed it."
Although the staff only performs once a year, the VHS What? Improv Troupe will perform in the Winter Showcase on Jan. 31 and Feb. 1 at 7 p.m. in the Little Theatre.