IT'S ALL-LIVE!
An introspective look on the current state of Ventura County's live music scene
Since the abrupt shutdown in 2020, many  local bands in Ventura have been dying to get back out in the field. Many musicians struggled to put themselves out there and to satisfy their appetite for show business. A recent let-up on our COVID-19 restriction guidelines has allowed bands to finally fulfill this hunger and let guitars roar on stage again.
Many bands recently have been channeling their anger. Metal, punk & grunge seem to be some of the most active genres around Ventura. The thick and slugging power chords of garage rock can be heard all around our bustling downtown community. Bombay's Bar & Grill has been a hotspot for many live shows. 
Senior Noah Koontz said, "I got to see Coffin, Dudeo Perez, and Somatic at Bombay's one time. That was my favorite local show." He also remembers seeing legendary punk band, Agent Orange, at Discovery Ventura, which has since shutdown.
Teacher Christian Gallo is excited to be able to get his own band out on the road. After a recent split in his former band, Big Tweed, he and his friends are back with a new band, Chaparral, a blend between surf country and traditional country roots.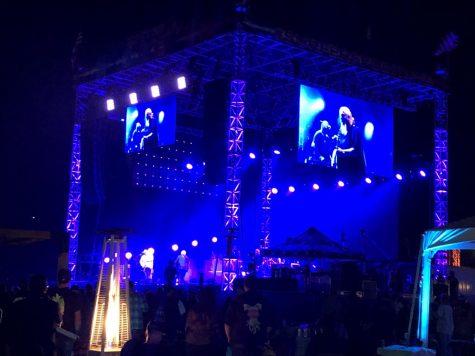 Some of his favorite local venues to see shows at are Grapes & Hops, Madewest, Bell Arts Factory, Ojai Deer Lodge, and The Saloon Ventura. 
Gallo is disappointed with Ventura's music locations. Gallo said, "I feel like there's not a lot of good venues right now. I think that has a lot to do with COVID." He enjoys venues further away, like Maverick Saloon in Santa Ynez or Island Brew in Carpinteria when performing. He really loves dancing crowds, & people who can really, "geek out," and appreciate the equipment he & his bandmates use. "Whenever there's dancers," Gallo said, "that really gets the band going."
Gallo also reminisced about the music scene when he was in high school. He got to see well known bands like DEVO and B.B. King at the Majestic Theater, and The Grateful Dead at the Ventura Fairgrounds. He feels as if shows like these just aren't coming through Ventura anymore. Gallo believes a lot of shows nowadays struggle to grab and hold the attention of people in Ventura. 
Overall, the music scene in Ventura is struggling, but bands are working to get back out there. Venues have shows for music lovers to see if they really look . However, the risk of contracting COVID-19 at music events is not non-existent. Events like Lollapalooza, thought to have been a 'super-spreader' event, resulted in 203 attendees testing positive for COVID-19 (with many attendees thought to have been COVID-19 positive before arrival). 
According to NBC Chicago, over 385,000 people attended this event with "nearly 90 percent of attendees" being vaccinated. Following COVID-19 guidelines and students keeping their mask over their nose and mouth will most likely result in more shows being played all over the Ventura music community.