Do VHS students think HBO's Euphoria is realistic?
With all the drugs, alcohol, parties and relationships, does Euphoria really get it right?

Following the season two premiere of HBO's hit series Euphoria, depicting a high school party with prominent drug use and underage drinking, the debate on whether this show is realistic is discussed among VHS students.
"'Parents are gonna be scared,' and you go 'Yeah.' And young people will be like, 'Yeah, that's my life.' I'm sure certain people will be freaked out by it and other people will relate to it," said Euphoria's creator, Sam Levinson in an interview with Entertainment Weekly.
Levinson based this show in his own life as a highschooler struggling with addiction. The character Rue, played by Zendaya, is based off of himself. When asked how he captured the current high school's generation (Gen Z) when writing he said, "I just wrote myself as a teenager. I think those feelings and memories they're still extremely accessible to me, so it's not a hard reach. I just write myself and what I was feeling and what I was going through when I was younger and I was dealing with addiction."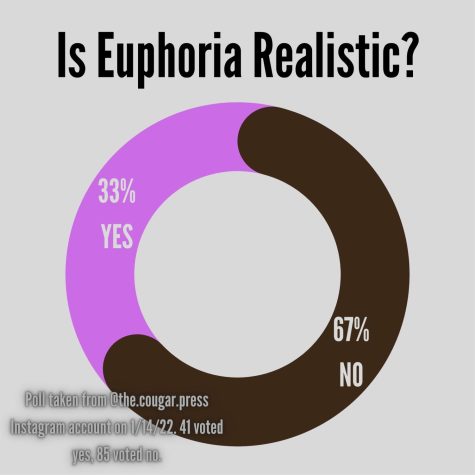 In a poll taken from @the.cougar.press instagram account, 41 voters said that they think Euphoria is realistic while 85 said it is not. 
VHS sophomore Elenoa Silikula responded to the poll that said that Euphoria is realistic to high school life. She said, "They [high schoolers] use serious drugs. I know kids that just in the past two weeks that [have been] on acid during school and even when people are having conversations about it in class the teacher will just sit there and act like they aren't hearing the fact there's a student on acid having a panic attack in the bathroom." 
Drugs are a recurring theme in the show, with most main characters participating in the consumption of them. A main character, Fezco, is a drug dealer, emphasizing the fact that drugs are normal in the show.
"I don't think it's really realistic," said sophomore Zoee Vega. "I feel like they glorify and romanticize drugs and addiction but also I think it honestly depends on the person and how [they're] doing their own things… I think it [gets] wrong with all the drugs because personally, I don't know anyone who is addicted to the things that Rue is addicted to," such as painkillers, cocaine and other illegal drugs.
Zendaya, who portrayed Rue, shared a message to social media explaining that the show is "a raw and honest portrait of addiction, anxiety and the difficulty of navigating life today," warning her followers and others that it might be difficult to watch.
"I do think it's important that we as a culture — we as parents, we as brothers and sisters — have empathy for the struggles [people] are going through," Levinson told Variety about the topic of drugs and addiction in the show, "I think any time you put anything on screen [such as drugs], you run the risk of glamorizing it just by the nature of it being on screen. I don't want [to be triggering], but we also have to be authentic about it." 
Junior Aja Madrigal finds Euphoria both unrealistic and realistic. She said, "The characters obviously look a lot older and dress older than what they are supposed to be playing, but there are a lot of situations that are very realistic. For example, the way Cassie gets used for her body and exposed, I've seen it happen to so many girls in school and when I was in middle school."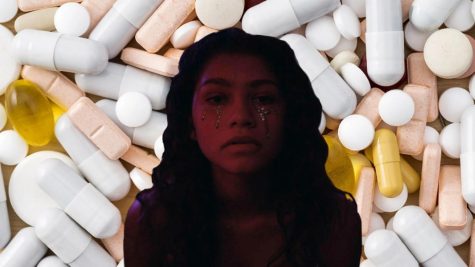 "Also Maddy and Nate's relationship being toxic and abusive, it's a very real thing that I have seen and experienced and it portrays a toxic relationship so well," said Madrigal regarding the toxic relationship portrayed on the show.
16 year old Devyn Carson was interviewed by VICE back in 2019 if she thought Euphoria was realistic as a highschooler herself, she said; "I think Euphoria isn't necessarily an exact representation of teen life in 2019, but it definitely checks some boxes that other series don't dare take on. For example, I don't know very many completely drug-dependent teens in my life, and I personally have never experienced revenge porn, but the whole idea of hiding important experiences and thoughts from your parents, and the entire twisted atmosphere that the show creates is entirely too familiar. The party scenes are [done well], and the pressure faced by peers is not as far off and crazy as someone from a different generation would think."
"I don't really think that any high school shows/movies get it 100 percent right I think it just depends on yourself," said Vega, countering Carson's opinion on the realistic nature of the show.
"The show captures the fact that teen life is no longer just frilly skirts and bubblegum; it is distorted and perplexing and corrupt and it is only just getting worse," said Carson.