VHS art students say "Ciao!" from Italy
Lauren Minadeo's art students took a trip to Italy over spring break, how did it go?
Over the 2022 spring break (April 4-8), VHS art teacher Lauren Minadeo took 16 of her students to Italy. Originally intended for her AP art history class, Minadeo opened the trip up to more students. "The trip itself was open to anyone [in her classes]  who wanted to join," said sophomore Emily Sehati. 
Throughout their week-long trip, the group traveled all over Italy. "We originally started in northern Italy, like Milan, and then gradually went down all the way to Naples, and we ended in Rome," said Sehati. 
While in Italy, students saw many famous art monuments, including the Sistine Chapel, which was a favorite among the art students. The Sistine Chapel consists of many different paintings by the famous Renaissance artist Michealangelo. Sehati expressed her favorite thing to see on the trip: "Considering that we took art history last year, I'd say seeing the Sistine Chapel and the Vatican [was my favorite part]. That was an amazing experience because of all the hidden symbols within the paintings of Michelangelo."
Junior Mae Stepan also shared their admiration of the Sistine Chapel, "I'd say my favorite thing was 'The Last Judgment' painting in the Sistine Chapel." 
This trip acted as a way for students to further understand and experience the art that they have learned about in class. It was also a way to see more artwork students would be learning about by continuing art classes in their upcoming years of high school. Stepan said, "I will be taking art history next year and I saw a lot of the art pieces that are included in the AP curriculum."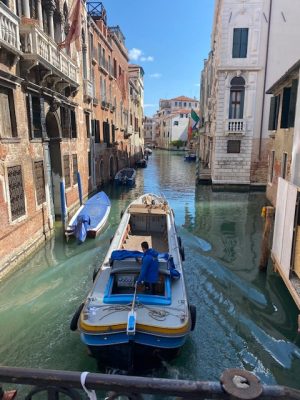 Along with learning about historic artwork, the group also saw Italian art, culture and tradition in everyday Italian life. "My favorite part of Italian culture was the tradition of throwing coins into the Trevi Fountain. The meaning behind it is if you throw a coin into the fountain with your right hand over the left shoulder you will return to Rome," said Stepan. 
Sehati shared, "I really loved the fashion, everybody there [in Italy] was really well dressed, just dressed in a way that you respected them so well because of the way that they put themselves out there." 
Minadeo shared what she hopes her students take away from the trip: "A love of travel and adventure, the ability to see how different people live in different areas and how different cultures are. Even in just simple things, like the way we eat and how we interact with people."
She also shared her part of the trip: "As an art teacher and the extreme art nerd that I am, my favorite thing was going to the Uffizi Gallery, which is in Florence."
During the VHS art students' trip to Italy, they got the chance to experience historical and modern day Italian culture while also preparing themselves to continue art, and possibly to return to Italy in the future.