Music review: SZA has returned with breakthrough album "SOS"
 Five years since her last album, SZA has delivered "SOS" to her fans 
On Dec. 11, R&B singer SZA came out with a 23-track-long album "SOS," featuring artists Don Toliver, Phoebe Bridgers, Travis Scott and Ol' Dirty Bastard. 
"SOS" is SZA's second album, with her first album "CTRL" coming out in the summer of 2017. 
The lead single, "Good Days," was released in 2020, showing how anticipated this album was because of its nearly three year long wait. "CTRL" was an immensely successful debut album with a classic R&B soundtrack that attracted a significant portion of SZA's fans. "SOS" explores upbeat tones in addition to slower, melancholic songs, still embracing the R&B sound that SZA is known and loved for.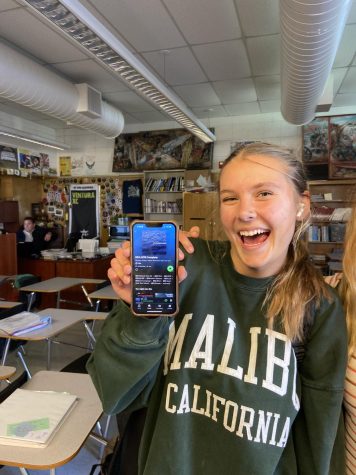 Phoebe Bridgers was one of the last people expected to collaborate with SZA due to their contrasting musical styles, but their song "Ghost in the Machine" was a fan favorite and proved that their styles join together nicely. The song uniquely combined production elements in Phoebe Bridgers' music, particularly her album "Punisher." 
Travis Scott returned to collaborate with SZA after being featured on "CTRL" with the song "Love Galore," with being featured on the song "Open Arms."
Violet Hurguy '24 said, "I was really excited because a lot of albums have been dropping but none of them have really been up to my standards.I just love SZA so I was really excited." Hurguy's favorite songs on the album were "Special," "Open Arms" and "Kill Bill"." 
Chyna Wong-Wui '25 said, "My favorite on the album is 'Seek and Destroy' […] Sza slays."
On Dec. 16, the sale for SZA's upcoming tour went live. The tour will begin on Feb. 21 in Columbus, Ohio and will cover cities in the US as well as Canada. The tour will go on through May.
The cover artwork for the album features SZA sitting on a diving board over the ocean. The captivating recreation of Princess Diana's photo was posted to her Instagram, which excited fans who have been waiting for an album for half a decade. 
With all of this anticipation built up over five years, it is safe to say fans were not disappointed. 
Hurguy said, "This is probably my favorite album drop of the year."