Ventura High School's chalk festival pushes students to explore new limits
The history, backstory and aftermath of the chalk festival
The annual VHS chalk festival took place in front of the statue on May 12 and 13. The history of the chalk festival is rooted deep in VHS history. It is not just some random event put on by the art department. 
The first VHS chalk festival began in 1987 with art teacher Patty Post. She attended the first chalk festival in Santa Barbara called I Madonnari in 1968 and felt very inspired, so she decided to bring the tradition to VHS. The chalk festival has been an arts fundraiser ever since. I Madonnari still takes place in front of the Santa Barbara mission every Memorial Day weekend.
Lauren Minadeo, a VHS art teacher, said, "I've actually been doing the Santa Barbara chalk festival and I was an invited artist for around 15 years. This year I have a giant square and I am taking like 10 or 15 students with me and they're going to be doing like seven squares so that's a big deal. I picked … students that are really good because it's a big responsibility." 
Most of the students that participate in the chalk festival are in Art 2, 3 and AP Art. Minadeo said, "There's always like a random art one [student] because some of the kids are really talented."
The preparation for the chalk festival is a little more complex than most students assume. The chosen sketches are not done by the students, but rather by different people from the VUSD. Minadeo sends an email out to the district, and anyone can send in anything, and it gets drawn, similarly to a commissioning system. Minadeo said, "People send pictures to me and I put them in photoshop and crop them so they can be gridded to the size that we need to sell them."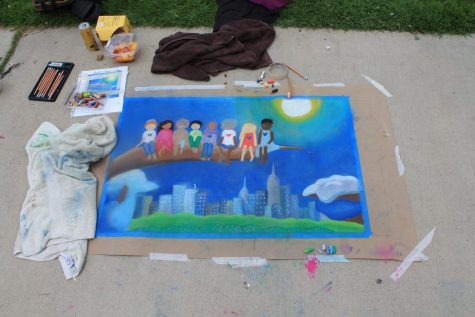 "I take every picture that is sent in. That's why we ended up with a lot of cats this year. It's like a pet portrait year and they're pretty hard," said Minadeo.
Ellie Toumeh '23 said, "I think the chalk festival should continue because it's a cool activity and it allows the students to showcase their art for everyone to see." His favorite portrait was "The Last Supper." He said, "I just felt a connection to it and was intrigued by it because I have the picture at home."
The chalk festival is utilized in order to pay for buses for field trips as well as random art supplies needed throughout the year. Minadeo said, "Once they are done, we pull off the tape and we trim them down, and a lot of them we frame around campus and then I deliver them all around the district. I literally fill the back of my car with giant chalk drawings and drive them all over town."