What's going on in the Ventura High School Art Department?
Find out what VHS art is all about, what student artists are working on and learn about the teachers who run it
The VHS art department has a variety of classes for all students. The classes are taught by either Lauren Minadeo or Megan McKee. Entering VHS, freshmen who choose art as a fine arts elective are typically placed in Art 1. The art department also offers Art 2, Art 3, AP Art, AP Art History and Multicultural Arts.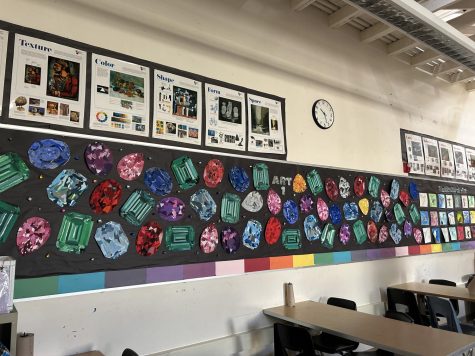 Minadeo said, "I think of Art 1 as that place where I have to build a foundation … that total intro to art. I teach them how to hold a pencil correctly and how it's different to shade with a pencil than it is to write with a pencil, and the mechanics of it and all that stuff. For me it's huge, to give them that opportunity if they want to keep going. I try to make it fun but you have to have these base skills to build upon. It's all about building blocks, 100 percent."
As students advance in art throughout high school, they have the opportunity to take Art 2, 3, AP Art and Multicultural Art. Minadeo explained that after Art 1, she likes to give her students more artistic freedom and in Art 3 and AP Art, she allows them to choose their own art mediums, styles and size for their final project. Due to new funding for art classes and student creativity, the art classes have been able to experiment with a variety of artistic expressions.
Minadeo said, "We just got some iPads so some of the kids are doing digital work which is really cool. [There have been] more paintings this year which is nice, and then some sculptures which are pretty cool. Like trash sculptures, cardboard sculptures which are pretty neat. We did some celebrity portraits which are pretty cheesy, like 19th century art style."
Students currently in McKee's Multicultural Arts class just finished making a hummingbird paper mache piece which was made out of chipboard, newspaper, masking tape, plaster and glue. Students in Minadeo's Art 1 class are working with watercolor, colored pencils and paint.
Eva Romero '23 said, "I feel really lucky to have a teacher like Ms. McKee and I think multicultural arts is a great way to learn about other cultures and also incorporate fun activities."
Furthermore, multicultural arts provide students with an opportunity to understand the symbols, myths, beliefs and practices of people across the world. The hummingbird is an important creature in many indigenous cultures on the Pacific Coast.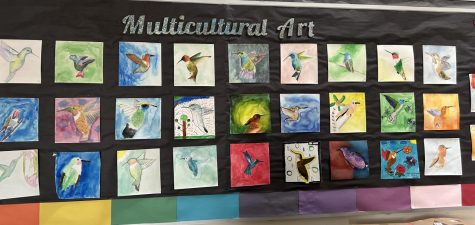 McKee said, "Hummingbirds represent warriors that die in battle [and] a communication device. [They are] an animal that would communicate between the gods and the humans because they are fast flyers. In Native American stories, hummingbirds were small but mighty and they put out a fire because they were able to fly between the flames. Hummingbirds are just lucky in general, and I feel that in our culture as Americans we see hummingbirds as symbolizing good luck or good health. Students learned how to draw hummingbirds, paint hummingbirds and then they created a three dimensional hummingbird."
The differences between the first and second semesters of the year keep students engaged and aid in developing their artistic skills beyond the basics.
Minadeo said, "The second semester is a lot of color theory. First semester is all drawing, like draw, draw, draw. Especially for art one, it's all the basics like teaching them how to shade and how to do texture and use lines, just really get comfortable drawing."
When the second semester rolls around, students are ready to focus on shading with colored pencils and layering with colored pencils. From there, they can practice painting, chalk drawings and other styles.
Minadeo and McKee have been creating and teaching art for years. Minadeo has been at VHS for nine years and has instructed art for 20 years. Before teaching at VHS, McKee had her own business called Creative Kids, where she taught metal smithing, painting, drawing and tie-dying.
Before being a teacher, Minadeo thought she wanted to be an animator. When she discovered animation was much more challenging than she expected and her peers seemed to be surpassing her, Minadeo revisited her childhood dream of becoming a teacher.
Minadeo said, "This is exactly what I'm supposed to do, and I couldn't be happier. This is the best job ever."