Cougar critique: "Just Kids"
This coming-of-age autobiography depicts Patti Smith's rise to fame and how success can be achieved through unconventional ways
Patti Smith's autobiography, "Just Kids," documents her early life before fame and her complex relationship with legendary photographer Robert Mapplethorpe. The book was written in 2010 and covers Smith's life in the late 1960s and 70s. 
Smith is a legendary punk rock musician, poet and overall artistic spirit who has had a big influence on rock and roll culture.
At 19, Smith left her home in South Jersey and went to New York City with almost nothing. Homeless, she slept wherever she could and was the definition of a starving artist. She soon met Robert Mapplethorpe in 1967, and they bonded instantly. They had both come from deeply religious upbringings and came to the city to pursue their artistic endeavors. 
As the years went on, their relationship became more complicated. Mapplethorpe came out as gay, but that didn't prevent them from being artistic collaborators. Smith supported Mapplethorpe, and they continued to be each other's muses. Their complicated relationship had a profound impact on each of their creative paths.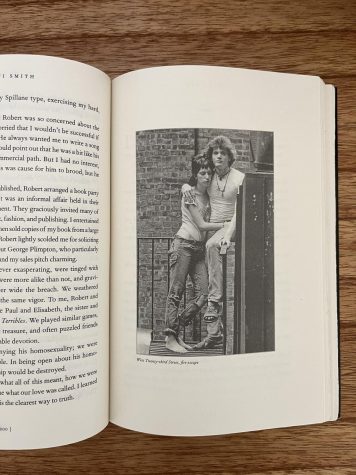 Then in 1969, Smith and Mapplethorpe moved into the Chelsea Hotel after their apartment in the Lower East Side was broken into. In the late 1960s and early 1970s, New York City was a place where people pushed the limits and broke through conventional thought. It was exciting and dangerous and filled with possibilities. At the center of all this was the Chelsea Hotel. Artists could exchange their work to pay the rent, so it became a hub for innovation and creative genius. Bob Dylan, Jimi Hendrix and Janis Joplin were just a few of the many artists who resided there at the time.
Smith's love for poetry eventually led her to the world of music. She published some of her poems and began performing them live. Slowly, she began adding guitar and, eventually, a band to her performances. This led her to rock and roll and explains the spoken word poetry feel of all her songs. She released her debut album, "Horses" in 1975 and continues her music career to this day.
As her career took off, Smith and Mapplethorpe began to drift apart. She eventually left New York and moved to Detroit in 1978 with her husband, Fred Sonic Smith. Then, in 1986 Mapplethorpe was diagnosed with AIDS at the same time Smith found out she was carrying her second child. Smith visited him, and Mapplethorpe took a photo of her. That became the album cover for Smith's 1988 album "Dream of Life." On March 9, 1989, Mapplethorpe died. The book concludes with an elegy written by Smith. Although they had a complex relationship, they were collaborators until the end.
VHS teacher Greg Raney said, "I would recommend it to high school seniors or anybody who is on the brink of starting a new point or moment in their life and who's kind of apprehensive or unsure or worried about things. I'd also recommend it to students who are unsure about their future and who are getting a lot of messages from adults and parents who say to do one thing and they want to do something else."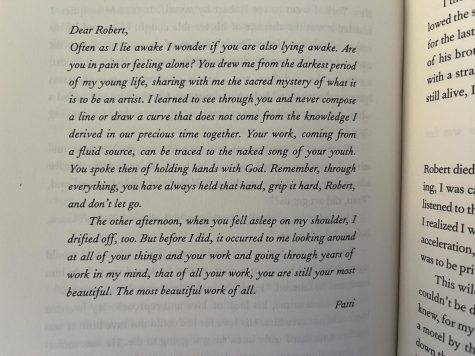 Smith's story serves as an inspiration to everyone. Her drive to continually pursue her artistic endeavors despite the poverty and hardship she had to endure as a result really inspired me. Her vast knowledge of and passion for art, music and poetry makes the book fascinating to read, as she includes hundreds of unique artistic references that make the book full of rich information that helps the reader better understand the prominent counterculture at the time.
Jack Gordon '23 said, "I'd recommend the book to basically anyone. Even though Patti Smith is a 70s punk rock icon, you don't really need to have an interest in punk rock or 70s music, as the book focuses more on the interpersonal relationships Patti had in her adolescence. That being said, people who are interested in this era of music and musicians will love this book as it provides a ton of background information on the east coast music scene of that era."
Smith's story defies the notion that college is a necessary step to success. She serves as an example to all young people that as long as you are deeply passionate about something, you can't help but be successful. You don't need lots of money or a degree to pursue what you love and make it into a career. This is a vital book to read in your youth, as many VHS students are at the age Smith was when she decided to pursue her dreams.