Ratatouille: The Tik Tok Musical
VHS' opinions on the ragtag Tik Tok musical.
For a moment, the whole world shut down. Production of new films and TV shows stopped, the entertainment business went dark. But, as we slowly came back from total lockdown, new entertainment options became available. But how, you ask, can new content be practiced, performed and filmed while still being safe and staying home? The answer is Tik Tok. 
Over the summer, a 26-year-old teacher from New York came up with the idea of creating the #RatatouilleMusical with original songs, just for fun. From there, thousands of creators contributed their content to #RatatouilleMusical. Soon Broadway took notice and it became a one-night Broadway-style musical people could pay to watch.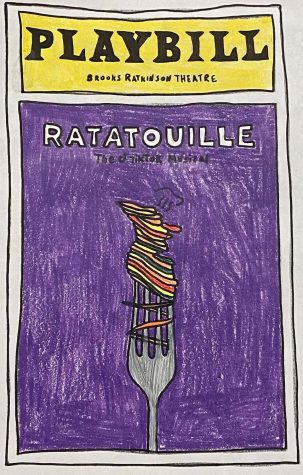 The show featured audience-developed songs and choreography. A 20-piece, all-female orchestra, sets, costumes and even some big-name stars like Emmy nominated Broadway and TV actor Titus Burgess and Kevin Chamberlin, who played Bertrum on "Jessie." Based on the 2007 Disney movie, the Ratatouille Musical debuted on Jan. 1, 2021, as a one-time streaming event and raised $2 million for the Actors Fund, supporting entertainment industry employees who can't work because of COVID-19. 
This event drew a surprising amount of attention and was even reviewed by the New York Times theater critic Jesse Green, who noted the unique and innovative techniques used in the play, writing, "It's mostly online creation allowed contributors from all over the country, many of them young, to collaborate with old hands." 
On its one-day-only showing, it drew in 350,000 viewers, including some VHS students. Sophomore Lily Carnaghe saw the play on a Tik Tok live. "I heard about the musical and at first, I thought it was a joke because people on Tik Tok were making it." Even though she didn't see the whole thing, Carnaghe said, "they sang a little bit, so that's cool. With COVID going on, they did a pretty good job."
"Ratatouille: The Tik Tok Musical" wasn't the only online collaboration we saw this past year; there were others, like the "Hamilton" cast singing "The Room Where it Happened," to urge people to get out and vote. Or, actors singing and dancing to "You Can't Stop the Beat" from "Hairspray" to raise money for the Actors Fund. 
These social media tools have allowed actors and everyday people to stay connected and reach audiences while at home. Sophomore Carlos Garcia-Benitez agrees, "I believe that it has allowed people to showcase their talents. Whether it's dancing, cooking, drawing, etc." As a fellow Tik Tok user, Garcia-Benitez said, "I think it's nice having an app where you can show off your talents during a world pandemic." 
Overall, Tik Tok has made this pandemic easier for many teenagers like those interviewed. It's given people a way to feel connected and experience trends together. After this pandemic is over, will Tik Tok collaborations become normal? Should we get used to seeing these 'collage' type performances? Many hope they do, they've brought joy and hope to thousands, and even if, in the end, these online, no contact collabs don't become a thing, they'll hold a special place in our hearts.