What's going on in the lot?
Are students facing fru
stration over parking permits?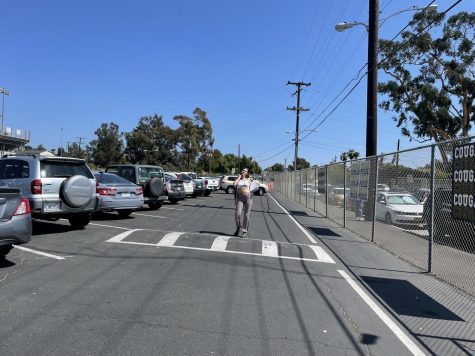 As most VHS students are aware, parking permits are required and enforced, for students wanting to park in the student lot. Any student who has a parking permit has had to get their application approved by the office.
René Marks, a junior on campus said, "I think parking permits are a bit inconvenient for a lot of students." Marks believes these required parking permits make things more complicated for students. However, Marks loves spending time in the lot with friends, "I love being a member of society," she said. The lot can be a place to meet new people, be friendly to your peers parked next to you. "I would probably make it bigger and make the speed bumps better," Marks replied when asked what she would change about the lot. 
Senior Lucy Growdon-Stark, parks off campus due to the fact that she has no parking permit. Even if she had a parking permit the year before parking permits expire yearly. "I liked being able to drive out of the lot during lunch but we don't have a lot of time at lunch, the time limit is definitely a struggle," she added. Growdon-Stark was quick to respond when asked about their past experience.
A wide range of students on campus love hanging out in the quad. Nevertheless, a handful of students prefer the lot. "I enjoy hanging out in the lot because of my friends," Growdon-Stark replied when asked if they preferred hanging out in the lot or quad. "Most of my friends drive. It's fun being able to hang out in our cars. We enjoy listening to music." 
Altogether, the lot is a space for students to have fun and essentially hang out without feeling the stress of school. Many students think it's good to have more than one option when it comes to where they want to spend their free time at school.