VHS students stealing in the name of the Devious Lick
 The not so secret issue on campus
Over a month into the school year the new TikTok trend "The Devious Lick" has taken students across the nation by storm. The Devious Lick challenges students to take "licks" from the schools they attend. A "lick" is a new term used by the youth popularized through the devious lick, meaning a stolen item.
"Unprofessional. Uncalled for," said senior Isaac Rivera referring to the devious lick.
 "Students are messing up the bathrooms and stealing from the bathrooms," commented senior Shea Smith.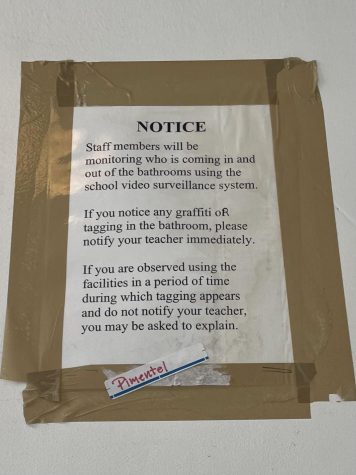 The devious hashtag has over 985.3 thousand views on TikTok as of Sept. Principal Cervantes said, "TikTok captures youth and students."
Sophomore Fransisco Gomo

said,"It's funny on TikTok. It's been trending everywhere." The popularity of the hashtag is getting TikTok videos to be viral. However, participating may lead a TikToker to face consequences from their school admin. 
"Sometimes students engage in these types of activities not really thinking about the dangers or the consequences behind it but more to see if they can gain followers," said Cervantes. Each situation will be handled differently. Cervantes continues, "We have to consider each and every individual circumstance and apply or take action based on that particular situation."
In an attempt to stop the problem before it became a problem, VHS administration made a post on social media via the @venturahscougars Instagram on the VHS weekly update of Sept. 17 which stated "Administration is aware of the TikTok 'classroom item stealing'  trend. VHS holds high expectations for students and has a zero tolerance for this type of behavior continue to make us proud cougars!!!" But this has not stopped all "licks" on campus.
The story starts after talking with freshman water polo player Ruby Welch. It was discovered that items from the pool were taken and placed in the pool. "There was a giant bin thrown in the pool. One of the [water polo] coaches has lawn chairs, and they threw those in. They took one of the floating cages that doesn't float unless it has kick boards underneath it.  And we had to clean it all up." Welch suspects that this all has to do with the devious lick challenge. She said "they might have had an influence from it." 
When asked to give insight on specific devious licks perpetrated on campus Cervantes responded, "I have no information because we haven't had anything we have been made aware of as an administration team." 
Since 2019, an Instagram page has been dedicated to the bathrooms on campus called @vhsbathrooms. On the page, is a collection of  all the mischief in the bathrooms perpetrated by the VHS students documented by an anonymous owner. It is unknown how this account receives it's content. On Sept. 26, a picture was posted on the account exposing the soap dispenser "lick" incident.  The picture shows a stolen soap dispenser from the wall lodged into one of the VHS toilets. The soap dispenser is now nowhere to be found. @vhsbathrooms says, "I don't think it's a super big problem but it's definitely prominent enough to be an issue over and over again."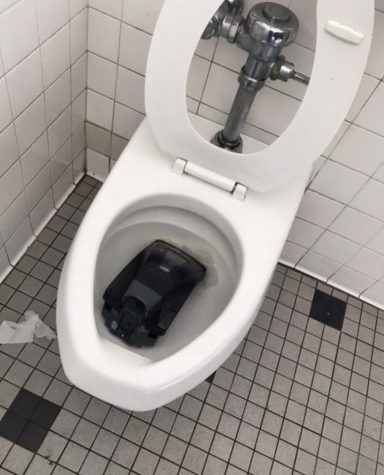 The missing soap has led to many problems for the male bathroom using students. Senior, Jesus Salecedo, said "I can't wash my hands properly which is necessary to fully reduce the spread of COVID." Elizabeth Jungman, director of CDER's Office of Regulatory Policy,  said to fda.gov, "According to the CDC, washing your hands with plain soap and water is one of the best ways to prevent the spread of infection and decrease the risk of getting sick," during an FDA insight interview. 
Students are having to get creative. Lucas Thomason, sophomore, shares "I don't like that they take the soap dispensers because you can't really wash your hands anymore and you have to go to someone's classroom to get hand sanitizer if you want your hands to be truly clean." Thomason goes on, "The bathrooms are super unsanitary. I have to get dressed in there for cross country and it is awful. There's always stuff in the toilets, stuff in the sinks, there's stuff everywhere. It might seem funny but for the majority of the people who have to deal with it it's not." 
During an interview with Principal Cervantes on Sept. 27, 2021 she said, "This has not been a Ventura High school issue or problem that we've had to deal with. We became aware of this about two weeks ago and it's more through professional colleagues at work at different districts." Cervantes continued, "At the same time, I think our district personnel ticked off on this is something that other districts have been experiencing issues with so the district sent out a unified message and we also pushed it out through our weekly updates and bulletins."
Cervantes wants students to "Be model citizens. Make good choices. Be proud of our school and take care of it." In the  simple words of Jaime Gallegos, the campus supervisor, "Don't steal."