Opinion: What is there to know about the 2021 Met Gala?
 Is there more to the Met Gala than an excuse for millionaires to gather and party? This year's American Independence theme allowed celebrities to express their takes on America.
Ever wonder what it's like to be an "It" celebrity? The Met Gala is an event created to raise money for the Costume Institute, the Metropolitan Museum of Art's fashion department. It's an invitation-only event and the individual tickets cost thirty-thousand dollars. High-class celebrities are invited to attend since invitations are based on status. So, if you had thirty thousand dollars laying around and were planning on taking a trip to the Big Apple for this expensive event, you're out of luck. Unless you're Beyonce level or something. That's right, being slightly TikTok famous does not count. Although no one at VHS would get an invitation in the mail now, we still have time to build our popularity up. I don't know about everybody else, but I have lots of faith in myself to get majorly famous overnight, have a bunch of talented actors in line to date me and of course be invited to The Met Gala.
The 2021 Met Gala theme was "American Independence" Many celebrities took the route of tribute to classic American figures in history. "I was disappointed with anyone that just wore a suit. The Met Gala is supposed to be a place where you express yourself and go all out and anybody who just wore a suit was boring," said junior London Fletcher.
I enjoyed the idea of reflecting on our country's history and culture with an entertaining event, especially one as popular as The Met because it doesn't seem like another pointless gathering for elite celebrities. There are things to be learned from celebrities' perspectives and ideas when it comes to their outfits, and that is refreshing to see in this day and age.
Having said this, It's no lie that the outcome of this theme could've been executed much better. Junior Miles Newman said, "I think it worked more as an over exaggerated tea party for the poorly dressed." 
Billie Eilish went with a look inspired by Marilyn Monroe. "I think Billie Eilish and Gigi Hadid understood the theme the best," said Fletcher. Eilish rocked an elegant peachy gown by Oscar de la Renta to the main event, then a black leather pleated mini dress to the after-party, showing the diverse aspects that American fashion entails. Eilish's look was technically right on theme, and she looked gorgeous, but I question the creativity that went into it. Honoring Monroe seems like a very obvious and basic option.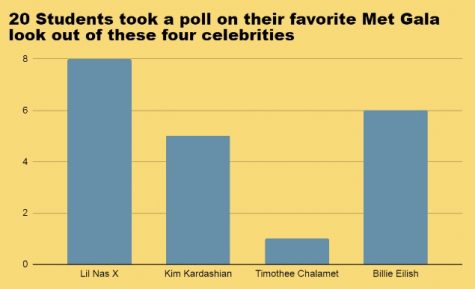 Timothee Chalamet showed up wearing an all-white ensemble by Haider Ackermann. It was quite simple, so simple that on his feet he wore white high top Converse. The theme correlates significantly with American public school fashion, which is reflected in that choice of shoe. Chalamet pairing these sneakers with sweatpants are very relatable in Ventura High's student fashion. 
Two of my favorite looks were executed by Lil Nas X and Kim Kardashian. Lil Nas X wore not one, but three outfits on the red carpet, each under the first. They initially came out with a striking gold cape custom made by Donatella Versace. Under that, they sported a shiny gold suit of armor which did slightly give Minecraft, but it was for sure a moment. Finally, under their fancy protection, they revealed a sparkly gold bodysuit once again by Versace. 
Kardashian shocked many when she showed up in Balenciaga literally from head to toe. Every inch of her body was covered. After receiving mixed responses, Kardashian posted with a caption that said, "What's more American than a T-shirt head to toe?" An excellent point, but her look was even more than that. Speculation roams that this ensemble was an example meant to shine light on sexualization in America. Over the years, she has been hated on, held to shame and frowned upon for being confident in her body and overly sexual. The fact that Kardashian was criticized for completely covering her body, most likely by the same people that shame her for showing it, is ridiculous and ironic. It shows that celebrities, especially women, are held to impossible standards when in reality they are regular people that do regular things, not meant to be idolized or put on pedestals. "I don't know about the best outfit but I feel like Kim Kardashian's had the best purpose behind it," said junior Chantelle Troutman. This was the most meaningful and educational look by far. 
If Ventura High were to host a casual version of the Met Gala, I think students' everyday outfits would perfectly fit into the 2021 Met Gala theme. Students at school every day are actively participating in classic American apparel, so it's interesting to think about regular students like us being able to possibly partake and fit nicely into the luxury event that is the Met gala. 
The Met is not a pointless event. It takes on interesting and important themes that are to be strictly followed by participants. They never declare lame or insignificant themes; they're always sophisticated and purposeful. Past examples are, 2018 Heavenly Bodies: Fashion and the Catholic Imagination, 2010 American Woman: Fashioning a National Identity and 2015 China: Through the Looking Glass. This event is respectable and entertaining to the public eye, since one leading trait in many Americans is being opinionated.