Calling all donors
Ventura High School and the American Red Cross partner to put on a blood drive for the community
On Sept. 30, Ventura High School partnered with the non-profit organization, the American Red Cross, to put on a blood drive. The blood drive was open to any person in the community, including VHS students who were 16 years or older, and met the donation requirements. All 16 year-olds were required to have a consent form filled out by their guardians. donors had to meet certain health requirements. Each individual looking to donate had to weigh a certain amount, based on their height. To donate, students had to make an appointment to go during one of their classes. 
The non-profit provided trained staff, equipment and supplies to perform the procedures, while the high school provided the facility. The drive was held in Main Street Gym. Inside, there were multiple beds set up for donors to lay on while they had blood drawn. 
Senior Remi Young decided to donate this year. Despite it being her first time donating, she was not nervous. Young said, "I wanted to do something good." She said she felt fine during the process. Young also went on to say that she plans on donating again.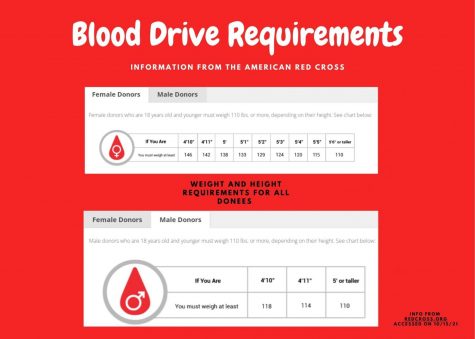 Another first time donor was Diane Villaloboz. Villaloboz said she decided to donate so she could earn the cord at graduation. She said, "Because my mom gets her blood taken out for analysis before chemo[therapy] and she says usually they can't find her vein. So that's what I was scared of." Villaloboz said, "I mean I can feel it, but it doesn't really hurt. Kinda just hurt a little because of the needle going in."
Senior Michael Mungaray also donated for the same reason as Villaloboz. "The cord [at graduation]." Mungaray said this was his motivation for donating. The cord Mungaray and Villaloboz are speaking of is a cord seniors can receive at graduation, as a representation of achievement, if they donate blood 3 times. 
This was Mungaray's first time donating, but he says it will not be his last. Mungaray also talked about how he was feeling about the process. When asked if he felt any nerves, Munagary said, "Not really. Just like once you sit in the bed." 
This was not the first time VHS has partnered with the American Red Cross to host a blood drive.The ARC works with many different organizations, including schools, to do countless blood drives around the country.