No, even with the surge, VHS is not going online again.
VUSD has a plan to combat the new surge in COVID-19 cases, and VHS students have opinions.
With the surge of COVID-19 cases and the Omicron variant in Ventura County, the current state of in-person classes at VHS is being questioned and for some students, their mental health is in jeopardy. 
"Amid this surge of cases specifically, I think that school should close, even if it's only for a month. Just so we can see where everything is going," said sophomore Kinda Meheal. According to the Ventura Unified School Districts COVID-19 page, "Any decision to close a portion of, or the entire school, would not be made without prior consultation with VCPH (Ventura County Public Health)." The page continues, depending on the school's size and physical layout, "when at least 5 percent of the total number of teachers/students/staff are COVID-19 positive, we close that site."
"In the event of a temporary closure of a classroom, portion of, or the entire school or District, parents/guardians would be immediately notified through ParentSquare and provided with options and instructions for distance learning," the page continues.
Distance learning was a prominent part of current VHS students' academic history. With classes being instructed online with the help of Zoom, Edgenuity and Canvas for over a year in 2020 and 2021.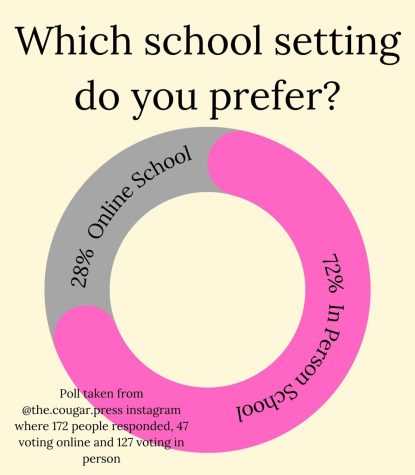 On a poll posted on @the.cougar.press Instagram account which asked the question, "Which school setting do you prefer?" 47 students responded "online school" while 127 responded "in-person." Over 70 percent of polled students prefer online schooling.
Many factors go into forming students' opinions on this topic: grades, social life experiences, mental health and physical health for themselves and others. 
Junior Sinthia Cardenas, who prefers online school, said, "My grades maintained the same through both online and in person. When moving online, my grades did struggle a bit in the first few weeks but once I got used to it I had no problem. Same for moving back in-person, it was a struggle at first but I quickly got used to it."
Cardenas said, "I think I mentally felt best online. I liked finishing school earlier. I got more sleep because I wasn't up late doing homework. I ate better because I had time to eat. (No more skipping lunch because I had to retake a test or talk to a teacher.) I am sure some prefer in-person due to liking structure but I very much liked being independent. I also had my pets with me which was nice."
Countering Cardenas's personal experience, freshman Owen Ousley said, "Definitely in-person [school] was where my mental health was the best. When we're going to school every day and seeing our friends it makes school way more fun and makes the day go by faster."
Junior Jayden Delacerda agrees, "My mental state has been better since we have been at school. For example, I get to see my friends even more than I was able to when we were on Zoom." 
According to the New York Times, Ventura County has a daily average of 1,196 cases on Jan. 5 which is significantly more cases than on Nov. 5, only three months ago, when the daily average was only 88. 
On Jan. 11, Ventura County had a daily average of 1,335 cases, only 139 cases away from the highest ever recorded cases in Ventura County. With this surge in cases, VUSD schools are under pressure to close down temporarily like they did in the past.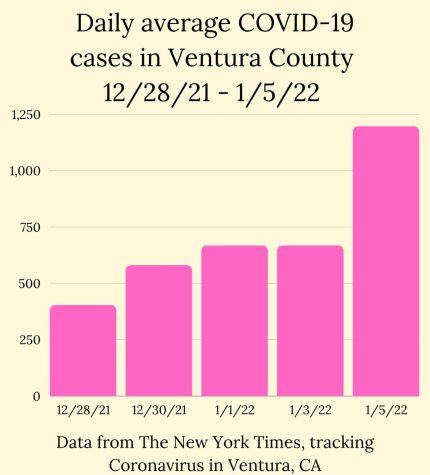 According to the article "K-12 classrooms to stay open in Ventura County despite surge of coronavirus cases"  from the VC Star, "The announcement from the Ventura County Office of Education noted state rules don't currently allow widespread distance learning for pre-K-to-12 schools." 
The article continues with a quote from the Ventura County superintendent César Morales: "A major effort is underway to expand optional COVID-19 testing for students so we can reduce the chances of the virus spreading at school. Many school districts have been working diligently during the winter break to distribute home test kits to families and we expect a greater supply of kits to be available soon."
When school closed for COVID-19 for two weeks on Mar. 12, 2020, the daily average case(s) was only one. Now with cases up well over 100 percent, some VHS students are wondering why school isn't closed yet.
When asked if she thinks school should be closed because of COVID-19, Meheal said, "I honestly am not comfortable going back to school during the surge of COVID cases/Omicron variant. The case numbers are crazy right now especially in Ventura. My mom is a high risk patient and if she gets in contact with COVID who knows what would happen, I'd rather not take that risk." 
Students with high risk family members may feel uncomfortable with the surge and might want to go online, but according to "K-12 classrooms to stay open in Ventura County despite surge of coronavirus cases" published by the VC star, "California doesn't currently allow elementary, middle and high school campuses to offer distance learning and "expects all schools to keep their doors open for in-person instruction…Schools do provide an independent study option that allows students to learn from home. But unlike distance learning, it must be requested individually by families and is not intended to serve large numbers of students."
 "Let's be honest, some students at our school aren't really the best at keeping their masks on. So yes, I do think school should close at least until the case numbers slow down," said Meheal.
Ousley disagrees on closing schools, "I think it all depends on the number of cases and if we have enough staff to run the school correctly without too many people getting sick." Ousley also said that he is fully vaccinated and has had the Omicron variant recently, making him more comfortable in school.
"I think there's more absences because more and more people are getting sick and our school is really getting hit hard with COVID right now," said Ousley when asked about the current student attendance.
Senior Tess Luoma had decided to stay home from school because of the surge in cases. When asked why she's staying home, she said, "School is feeling way too unsafe. It is stressful for me to be around so many people who may be unvaccinated or who have COVID. Students and teachers are testing positive left and right, and having to sit in a classroom with 40 other people is not something I am comfortable doing." She stays up to date with her schoolwork by checking in with teachers regularly and using Canvas. 
"I one hundred percent think that VUSD should temporarily close schools because of the COVID situation. Cases are tremendously worse than when we shut down in 2020, so it seems like the logical thing to do. A 2-week shutdown could reduce the amount of positives throughout our school district, which in my opinion, should be our number one goal," said Luoma.
On the afternoon of Jan. 10, VUSD Superintendent Roger Rice sent an email out to VUSD staff with the subject line: "New isolation & quarantine guidance and more."
The email listed rules that students and staff must follow if exposed to COVID-19, as well as quarantine guidelines and testing information.
Regarding the school closure debate, Rice responded in the staff email: "Some have asked why we did not consider closing down for a few days during this surge… Please know that although this option has been discussed, currently in CA, the K-12 school systems do not have the flexibility to shut down schools without adding a corresponding number of days to the calendar before the end of the year…The district continues to work with both employee associations to ensure schools stay open to serve students and families.  All sides are working to maintain the current calendar to minimize disruption for families and the community and the staff."
Rice also answered the question: Why is VUSD not going to distance learning? He wrote, "As we have stated in the past, the ability to go to a distance-learning model was taken away from all K-12 public schools in California, when we fully returned to in-person learning. The only way we can go back to a distance-learning option for all students would be if authorized by new legislation or a new executive order."
Rice concludes his email: "We know this is tough on everyone, and we understand the concern and stress this new surge has put on us all, but we ask that you remember, this is temporary, and our community will continue to pull together and get through this."