VHS sex education hasn't been taught in two years: What does this mean for VHS students?
VHS students want to be taught more than abstinence and STI awareness in health classes.
Sex education at VHS begins and ends freshman year in health class. However, with the limitations of online school, some health classes had to cut sex education out of their curriculums. 
"It [VHS sex education] must not be good since I can't remember the class at all, I've learned what I have from the internet and friends at school," said junior Ryan Hildebrecht. 
Sophomore Justin Lilse shared his experiences with sex education at VHS, "The sex education provided for us at school isn't very informative and focuses on the wrong aspects of sex ed. The
curriculum preached abstinence, but abstinence is practically a useless term… The content mostly focused on STI's and how drastic the consequences of them can be." 
This is a recurring theme within interviews, the content that was taught spotlighted STI's and abstinence.
Micheal Saltzman who teaches health at VHS has not been able to include sex education in the curriculum for the past two years because of the pandemic and online school. Meaning that a lot of current sophmores and juniors have not gone through the sex education curriculum. However, Saltzman plans to continue teaching sex education this year.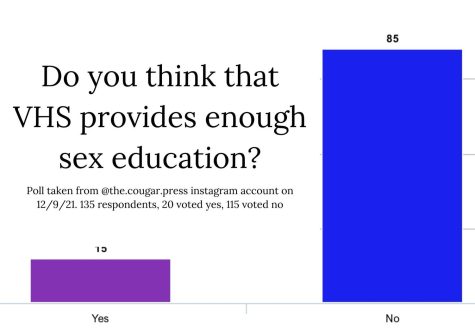 When asked about topics he focuses on regarding sex in health classes, Saltzman said, "If I do teach sex ed this year, the focus will be mostly on respect and appropriate behavior on and off campus. While it is important to understand the body and anatomy that goes with a student's sexual education, making sure students understand how important it is to treat classmates with the respect they deserve at all times is so much more important. Whether it's cyber bullying or the way students speak to each other on campus and off, or whether it is how they treat a person they are dating or trying to date, behavior is critical to sex ed."
According to a poll posted on Dec. 9 on The Cougar Press Instagram account (@the.cougar.press), 85 percent of voters believe that VHS does not provide enough sex education. 
Sophomore Yessenia Ferdandez voted that she doesn't think VHS provides enough sex education, she shared she didn't learn much from the curriculum but instead learned from the internet. Fernandez said,  "I felt like I learned more about sex, STDs, self expression and etc. on TikTok than sex ed which I thought was kinda disappointing."
Justin Lisle also voted VHS doesnt provide enough sex education, he said, "Sex ed is geared to a slim portion of a diverse student body. Any person who is not cishet [cis-gender, heterosexual] going through sex ed will find it uninformative and very excluding of the queer community."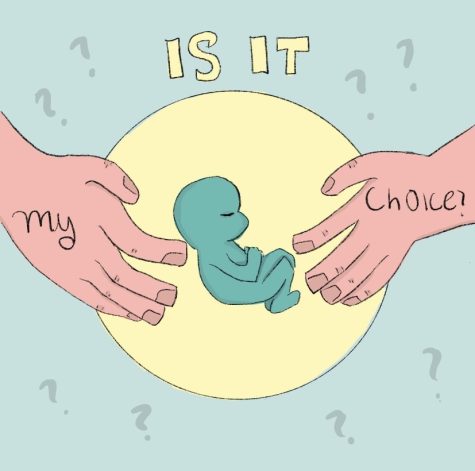 "A Call to Action: LGBTQ Youth Need Inclusive Sex Education" from the Human Rights Campaign said, "Whether legally barred or simply ignored, LGBTQ-inclusive sex education is not available for most youth. The Gay, Lesbian and Straight Education Network (GLSEN) 2013 National School Climate Survey found that fewer than five percent of LGBT students had health classes that included positive representations of LGBT-related topics." The article continued, "Research also showed that LGBTQ youth have a limited number of trusted adults they feel comfortable talking with about sexual health, so they frequently seek information online or from peers. Much of the sexual health information online is neither age-appropriate nor medically accurate, and peers may be misinformed."
Senior Sarah Ball brought up the diversity within sex education at VHS as well, "Moving into a more progressive era of education, there needs to be significant improvement on sex education surrounding LGBTQ+ partners, and how there are still options and practices to stay safe regardless of who you're choosing to have sex with."
Ball took health her freshman year online. She recalls what she learned 4 years ago, "I remember learning the basics on sexual education; learning about sexually transmitted diseases, how to avoid them, [the teacher] only ever really mentioned abstinence or condoms when discussing avoidance [of STIs and pregnancy]." 
Ball identifies as pro-choice and highlights how sex education plays a role in the discussion of abortion, "Instead of telling people they can't get abortions, make an effort to educate them on safe sex practices, increase awareness on safe methods of birth control, promote improving the foster care/adoption system, etc."
In the article "The problem with sex ed is…" By Chitra Panjabi, President & CEO of Sexuality Information and Education Council of the United States, Panjabi said, "According to data gathered by the Centers for Disease Control and Prevention (CDC), Sexuality is a fundamental aspect of our humanity, one that is worthy of dignity and respect. Consistent, quality sexuality education is critical for a young person's development because it provides the information they need to make informed and autonomous decisions about their bodies and their lives. Denying a young person sexuality education  —  for whatever reason  —  is a violation of their human rights."
"My goal every school year is to make sure what I choose to teach is relevant for the students and important for their lifelong learning. Not everything provided in the curriculum always is. When it isn't, I either adapt it to what makes the most sense for my students that semester, or I replace it with something else," said Salzman regarding the critiqued curriculum. 
"Because of the uniqueness of the last two school years, sex ed was removed completely. It is possible that it won't be this year. However, with the new variant and with possible additional variants in the future, there is no guarantee that our Spring Semester will look anything like our Fall Semester. Either way, I will always do my best to adapt to what makes the most
 sense for my students," said Saltzman