Opinion: What determines how much coverage a missing person receives?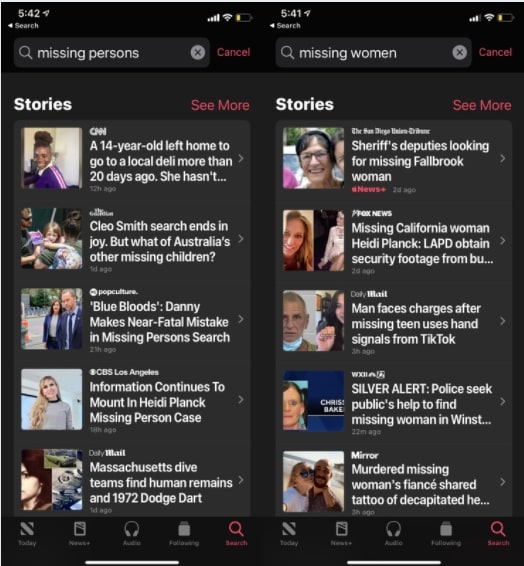 How racial bias causes missing POC to be misrepresented in the media
The Gabby Petito case had taken the media by storm. Having people of all ages checking the news daily for new updates. In 2020, 543,018 people were reported missing in the US. What causes a particular missing persons case to drive the public crazy, while hundreds of thousands of others are missing as well? 36 percent of the missing persons report were African-Americans, while the current African-American population in the US is 14.2 percent.  While searching for Petito's remains, law enforcement found at least nine other bodies. Most of them are people of color.  Who decides that some lives deserve to be searched for more than others?
"Missing white woman syndrome" is a term first used by journalist Gwen Ifill in 2004 and describes the phenomena that seems to be a repeating pattern with missing persons in the news, most recently with Petito's case. The fascination that the media and public can have with missing white women harmfully imposes the idea that the value of a person lies in the color of their skin. 
Reasons as to why POC receive far from proportionate coverage in the media can include desensitization and being mindlessly classified as runaways or criminals due to racial bias.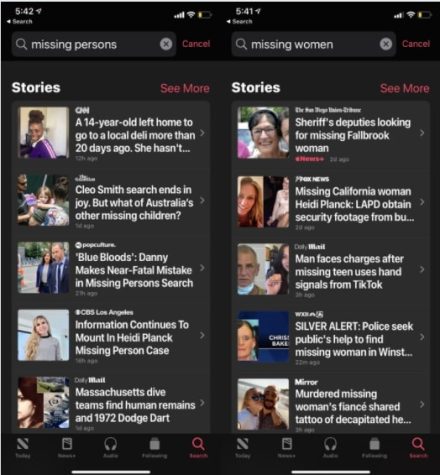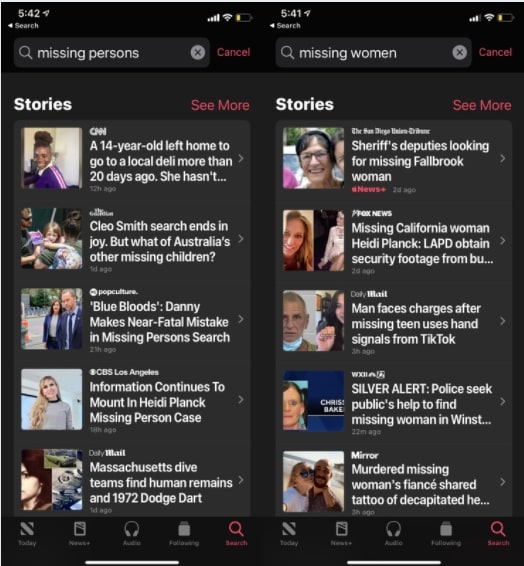 The website ourblackgirls.com was created by journalist Erika Marie in 2018 and displays profiles of missing African-American females. Throughout this last month, I have seen the face of Gabby Petito plastered on my screen, but as I scrolled through the home page I saw faces that I had never seen before. Missing African-Americans make up just more than one-third of missing persons, but that is not how it is shown in media coverage. Another example of POC owned media is "War Cry," a podcast available on Apple Podcasts that was started by Patsy Whitefoot with the purpose to explore the cases of murdered and missing Indigenious women. Whitefoot's own sister Daisy Mae Heath has been missing for 30 years.
On @the.cougar.press Instagram, a responsive story was put up asking "Why do you think Gabby Petito got more coverage than other missing people?" Senior Manuel Gama answered with "Media decides what it wants to cover. Nothing much of a coincidence to me." He said, "Gabby's mass coverage could be due to her having some internet fame as well as the media just picking it up in mass because of online traction rising. People of color go missing everyday as do white people as well. Media would have to spend too much time to even cover a small fraction of people going missing every year either from incidents like this or human trafficking." When asked about the racial disparity in coverage of missing persons, Gama said, "I'm kinda mixed. Can't really form much of an opinion on that." 
Junior Rhema Paterson responded with, "She was locally well known, had a [Youtube] channel, got attention from odd disappearance, was white." She said, "I also think there is a clear racial bias in the system with most if not all crimes. I think the systematic racism that exists in our society is very much reflected in the courts system and media coverage of tragic events."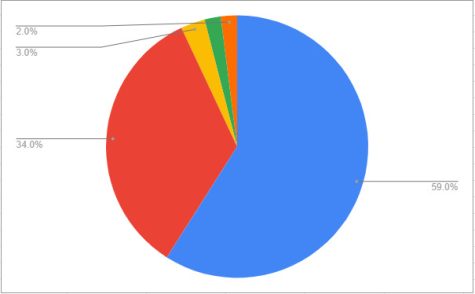 Paterson's statements hold their truth in the data. 47 percent of wrongful convictions, 22 percent of police shootings and 35 percent of people punished to the death penalty are African-Americans. When will this end?